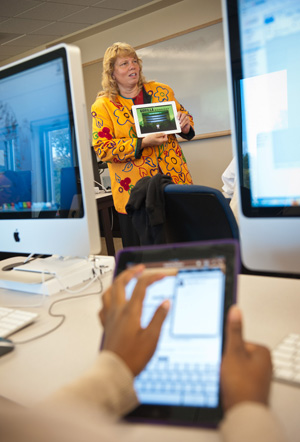 10/22/2013

SUNY Cortland faculty, staff and teaching assistants looking to infuse web-based tools in their work are encouraged to join the system-wide Tools of Engagement Project (TOEP).
A sandwich seminar on Thursday, Oct. 24, at noon in Brockway Hall Jacobus Lounge will serve as a second introductory session to the program, which aims to supply faculty and staff members with training for free online tools. Long-term goals include professional development for employees and classroom engagement for students.
The program is not simply an online course, rather a way to explore web tools collaboratively with colleagues. Campus get-togethers will take place throughout the fall and spring semesters beginning in November.
Those who wish to participate in TOEP should attend an initial registration session on Thursday, Oct. 31, from 1 to 4:30 p.m. in Sperry Center, Room 103. Participants will have access to a web-based tools website through early March, with no mandatory time commitment. Most online learning experiences are expected to range from 30 minutes to three hours.
People who complete the program will receive a certificate and will be entered to win prizes valued at $300 each. To be eligible, they must work at one of the 10 SUNY campuses participating in TOEP, register by Saturday, Nov. 30, and complete all of the project activities by Monday, March 3.
For more information, contact a member of the College's TEOP team: Shufang Shi, an associate professor of childhood/early childhood education, at 607-753-2468; Katherine Graham, a lecturer of economics, at 607-753-5954; Julia Morog, an instructional support associate in Campus Technology Services, at 607-753-2740; or John Scognamiglio, an instructional designer at Memorial Library, at 607-756-4366.
---