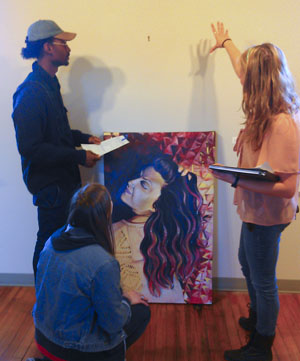 04/25/2014

SUNY Cortland's Dowd Gallery will showcase some of the College's best student artwork in "Student Select 2014," an annual display that opens Thursday, May 1.
Free and open to the public, the exhibition runs through Saturday, May 17. An opening reception takes place from 4:30 to 6:30 p.m. Thursday, May 1.
The Dowd Gallery remains located at Main Street SUNY Cortland, 9 Main St., through the summer. Gallery hours are 10 a.m. to 6 p.m. from Tuesday through Friday and 10 a.m. to 2 p.m. on Saturday. The gallery is closed Sunday and Monday.
"Student Select 2014" is a juried exhibition that provides SUNY Cortland students the opportunity to present their work in a gallery setting. The show also allows the public a glimpse of the wide variety of art created on the College's campus throughout the year.
Judith Meighan, an associate professor in Syracuse University's College of Visual and Performing Arts, serves as this year's juror.
An art historian and museum educator, Meighan worked at the Museum of Modern Art in New York City before joining Syracuse University's faculty in 1993. She is an expert in 19th and 20th century art and specializes in the beginnings of modern art in Italy.
For more information or to schedule a group tour, contact Gallery Director Erika Fowler-Decatur at 607-753-4216.
---