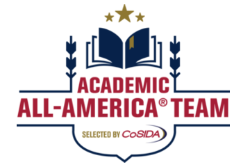 08/30/2021

A trio of SUNY Cortland student-athletes were recognized on a national scale with first team Academic All-America honors from the College Sports Information Directors of America (CoSIDA) earlier this summer.
Women's gymnasts Emma Schulz '21 and Emily Speciale '21 and softball player Kelly O'Gorman '20 were all honored for their dedication in the classroom.
O'Gorman is the first player in Cortland softball history to earn first team Academic All-America honors. The Red Dragons' previous softball national honorees were Leslie Lance (third team pitcher in 1998), Julie Gentner (second team infielder in 2003 and third team in 2002), and Abby Martin (second team infielder in 2012).
O'Gorman earned a bachelor's degree in inclusive childhood education in 2020 with a 3.95 cumulative GPA (converted to 3.91 on 4.0 scale for CoSIDA purposes) and currently has a 4.0 GPA as a graduate student in literacy education. This past spring, she earned National Fastpitch Coaches Association (NFCA) second team All-America and first team all-Northeast Region honors, and was the SUNYAC Softball Co-Player of the Year, after batting .423 with 11 doubles, five triples, seven homers, 37 RBI, 44 runs scored and five steals in 30 games.
Schulz was chosen to the national first team for the third straight year and Speciale earned a spot on the national third team for her first Academic All-America award.
Schulz is Cortland's first-ever three-time Academic All-American. In addition, this marks only the second time that Red Dragon teammates have earned Academic All-America recognition in the same season. Alyson Dalton and Jenna Evarts were both third team women's track and field/cross country Academic All-Americans in the 2011-12 school year.
A biology major with a minor in chemistry, Schulz graduated this past spring with a 4.02 cumulative grade point average (converted to 3.98 on a 4.0 scale for CoSIDA purposes). Schulz was the National Collegiate Gymnastics Association (NCGA) floor exercise national champion and balance beam national runner-up in 2019. In 2020, she was chosen as the NCGA and the Women's Collegiate Gymnastics Association (WCGA) East Region Gymnast of the Year and was named an All-American by both organizations. She was ranked first nationally on both floor and beam before the regional and national postseason tournaments were canceled due to COVID-19. Schulz holds a share of Cortland's school records on both floor (9.90, accomplished twice) and beam (9.825).
Speciale, an exercise science major, graduated this spring with a 3.98 overall GPA (converted to 3.92 on a 4.0 scale for CoSIDA purposes). She was named an NCGA All-American in the all-around in 2020, ranking fifth nationally and second in the East before postseason action was canceled. She also earned a spot on the NCGA All-Championship Team on uneven bars, ranking eighth nationally. In addition, Speciale was one of only three SUNY Cortland students, and the lone student-athlete, to earn a 2021 SUNY Chancellor's Award for Student Excellence. That award recognizes special achievement in at least three of the following areas: academic excellence, leadership, campus involvement, community service, or the arts.
Cortland student-athletes have now earned 40 Academic All-America honors, including 20 since 2011.
---