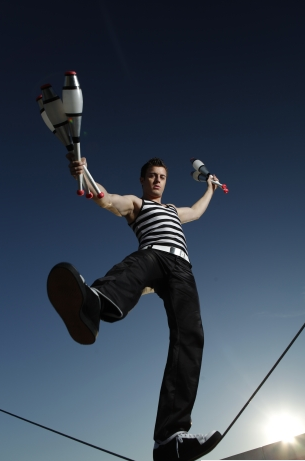 12/06/2011

The circus is coming to SUNY Cortland on Wednesday, Dec. 7. And while students won't be asked to escape from a straitjacket any time soon, the show will serve as a temporary escape from the stress of the upcoming final exams week.
The Solo Circus, an act that features entertainer Michael DuBois, starts at 8 p.m. in the Corey Union Function Room. DuBois' routine is an equal balance of comedy, magic and circus stunts. Its fast pace relies heavily on audience interaction.
This lone performer has been known to escape from a straitjacket while riding a unicycle and juggle knives on a tightrope. He began his act about six years ago. Since then, he has been featured on NBC's "Tonight Show" with Jay Leno and MTV.
The Horseheads, N.Y., native has traveled to more than 300 colleges and universities across the nation.
"I love live performance, and I think my show is geared perfectly to the college age," DuBois said. "Colleges have provided a really great venue for me to build my show and perform it all the time and all over the country."
DuBois got his start in the business when he attended Penn State University as an undergraduate. He made time between his photography and business management studies for activities such as the Juggling Club and the Magic Club.
Wednesday's event, which is free and open to the public, is sponsored by the SUNY Cortland Student Activities Board (SAB). The first 50 people in attendance will receive free SAB T-shirts
For more information, contact Mary Kate Boland, the assistant director of leadership and community development, at (607) 753-2034.
---