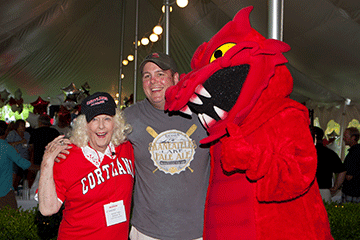 06/30/2015

More than 500 alumni and friends will enjoy class get-togethers, parties and other activities on campus and at the Lynne Parks '68 SUNY Cortland Alumni House from Thursday, July 9, through Sunday, July 12, during Alumni Reunion 2015.
"Reunion is one of our most favorite times of the year," said Erin Boylan, associate director of alumni engagement. "It is great to show off the new improvements on campus, highlight the accomplishments of the recent year and see that Red Dragon comradery stands the test of time."
As always, all alumni are welcome at Reunion, regardless of class year. Featured groups include the Half Century Club, comprised of alumni who graduated more than 50 years ago; the Classes of 1950, 1955, 1960, 1965, 1970 and 1990; sisters of Arethusa and Theta Phi, and the Student Government Association/House of Delegates. The Classes of 1974, 1975 and 1976 will return as the 40th Cluster Reunion.
Reunion opens Thursday with the Class of 1965 50th Reunion Dinner, which takes place at the Lynne Parks '65 SUNY Cortland Alumni House.
On Friday, two sets of golfers will tee off for the Theta Phi Golf Outing at Elm Tree Golf Course and the Alumni Association Golf Tournament at the Cortland Country Club. The Classes of 1955, 1965 and sisters of Theta Phi will set out for a boat cruise on one of the Finger Lakes.
That afternoon, the Cortland College Foundation and President Erik J. Bitterbaum will host a special reception at the Parks Alumni House to welcome all Red Dragons and to thank the Reunion Committee members. Later, members of the Half Century Club will dine at the Community Restaurant then board a bus to Little York Lake to see the Cortland Repertory Theater's production of the new musical "The Addams Family." Arethusa sorority will host its dinner in the elegant gardens of the Parks Alumni House. Also Friday, reunion featured groups will host various welcome parties on campus and around town.
| | |
| --- | --- |
| | |
| | Members of the Class of 1964, including the late Robert "Sparky" Wallace, center, enjoyed seeing each other again during Alumni Reunion 2014. |
Saturday's events include classes offered by graduates and faculty/staff for alumni, guided tours of the campus as well as the Parks Alumni House and the new Student Life Center. This year, an annual morning natural history hike of Hoxie Gorge will culminate with a 50th anniversary celebration of the College's outdoor campus, hosted by the staff of the William H. Parks Family Center for Environmental and Outdoor Education.
The SUNY Cortland Alumni Association will present its highest honor, the Distinguished Alumni Award, to three graduates, its Distinguished Young Alumni Award to one graduate, and its Distinguished Volunteer Award to two individuals during the Alumni Reunion 2015 luncheon. The luncheon begins Saturday at noon in the Corey Union Function Room and honors reunion classes and the award recipients.
The 2015 Distinguished Alumni Award recipients are Patricia A. Sullivan '69, a longtime George Washington University faculty member and former women's volleyball coach; Ronald H. Case '74, M.S.Ed. '79, director of athletics at Gloucester County College in Sewell, N.J.; and Diane C. Vecchio '81, a professor of history and nationally respected scholar on the experiences of Italian immigrants in America.
The 2015 Distinguished Young Alumnus Award recipient is Jarett S. Powers MS.Ed. '06, C.A.S. '09, C.A.S. '13, who in 2014, at age 32, became one of the youngest school superintendents in New York state.
The 2015 Outstanding Alumni Volunteer Award recipients are Joan Lombardi Peck '56, a retired physical education teacher and cheerleading coach from Rye, N.Y., who has volunteered her talents to the Alumni Association for Reunion and other events; and John Silsby '69, M.S.Ed. '70, the retired Town of Groton (Conn.) Parks and Recreation Department director, whose tireless College and alumni service has enriched the Recreation, Parks and Leisure Studies Department as well as generations of student protégés.
| | |
| --- | --- |
| | |
| | This elaborately signed, ceremonial pledge paddle still meant a lot to this pair of fraternity brothers meeting again at Reunion 2014. |
Immediately following the luncheon, the fun shifts downtown. For the sixth time, alumni can participate in Cortland Downtown Partnership's Taste of Downtown and Sidewalk Festival. Participants will enjoy food and beverage samples from numerous city eateries. The Nu Sigma Chi Legacy Fund will again underwrite an All-Greek Reception at the Parks Alumni House. The inaugural Half Century Club President's Reception will be hosted by Erik J. Bitterbaum in the Dowd Fine Arts Gallery.
Saturday evening the Theta Phi sisters will provide an entertaining program in Corey Union while all reunion attendees are invited to the Parks Alumni House for Brews and Barbecue. Brews and Barbecue will offer a selection of barbecue fare, NYS craft beer tastings, a DJ playing tunes from all eras and a photo booth featuring decades props.
A series of Young Alumni Reunion Day (YARD) events — geared for recent graduates from the past 10 years — are scheduled for that day. Activities will include a breakfast, softball game and complimentary beverage at the Cortland Brewing Company and an invitation to join all classes for Brews and Barbecue.
On Sunday, a farewell breakfast for all classes is scheduled for 9 to 11 a.m. in the back gardens at the Parks Alumni House. Arethusa sorority will have a farewell breakfast on the Kappa (1925-1991) Alumni Lawn of the Parks Alumni House. A workshop on using the online networking tool LinkedIn will take place that morning in the Parks Alumni House Dunlavey Pub. The Theta Phi sisters will enjoy a farewell breakfast in Brockway Hall Jacobus Lounge. Before departing, Arethusa and Theta Phi will tour their former Greek houses, at 64 Tompkins St. and 21 W. Court St., respectively.
The campus community is encouraged to attend Alumni Reunion 2015. For more information, contact Alumni Engagement at 607-753-2516 or visit the website at RedDragonNetwork.org/reunion.
---