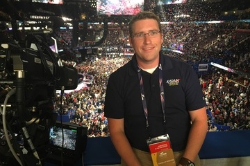 01/27/2020

Some of the most iconic images of modern times were captured in crowded rooms in Washington, D.C.
Think of video coverage of former Special Counsel Robert Mueller or Facebook CEO Mark Zuckerberg testifying before Congress or the impeachment trial of President Trump happening daily on the Senate floor.
You've seen those historic images and heard that testimony because Steve Kehoe '00 has been there to capture it all.
Kehoe, a Dryden, N.Y. native who majored in communication studies and minored in political science during his time at SUNY Cortland, works for C-SPAN (Cable-Satellite Public Affairs Network) as a field operations crew chief. He is currently the network's production manager for impeachment coverage.
The Senate has complicated rules when it comes to how cameras are used in the chamber. C-SPAN doesn't have the ability to pan or zoom the camera used in the impeachment trial — although it does have slightly more room for creativity during other House and Senate proceedings — as it is controlled by staffers in the Senate Recording Studio.
Yet Kehoe and his team do a significant part of the behind-the-scenes work that brings the video into homes around the world, whether audiences are watching on C-SPAN or other networks such as ABC, CBS, Fox and NBC. He works with liaisons from Senate offices to coordinate how the single video stream is presented to networks.
C-SPAN, which broadcasts on three networks, C-SPAN, C-SPAN2 and C-SPAN3, as well as a radio station, holds an important non-partisan role in political news.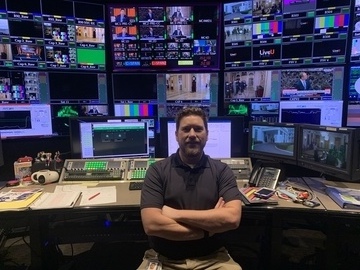 "Our goal is to have a non-filtered view, so we try to present everything in its totality," Kehoe said. "I like to think of myself as a video archivist. When we go to broadcast, especially this last set of impeachment hearings, those were C-SPAN cameras that we were feeding to everyone else. Anything you saw on the news, that was our stuff and that was my team providing that."
The style in which C-SPAN records key moments of American democracy is particularly exciting to Kehoe. He sees the lack of narration and commentary as vital to those who will study these events in the future.
"I like to think that historians further down the line aren't going to be reading transcripts," he said. "They're going to be watching the video. Not only do you want to do it for the day, in the back of your mind, you're thinking you're doing it for posterity."
Kehoe came to Cortland originally planning for a career in radio. He signed up for a television production class offered during winter break and found his calling.
"This is the truth behind 'take electives because you never know,'" he said. "With that being a super compressed timeframe, that was nonstop, deadline work that I really enjoy. I just went full bore into TV."
A course on the American presidency taught by Distinguished Service Professor Robert Spitzer during the 1998 to 1999 impeachment trial of Bill Clinton has also stuck with Kehoe.
So when a semester-long internship at C-SPAN opened up in Fall 2000, coinciding with a presidential election campaign, Kehoe knew he'd be successful with his strong backgrounds in both television and politics.
Two weeks after he graduated in December 2000, C-SPAN offered Kehoe a full-time job. Aside from a brief stint in communications consulting, he's been with the network ever since.
When he isn't overseeing the broadcasting of major events on Capitol Hill, Kehoe works with a crew of six staffers to record political happenings in the field outside of C-SPAN studios or the House and Senate chambers. He'll soon be taking a crew to New Hampshire to film there ahead of the state's Democratic primary election on Feb. 11.
Sometimes Kehoe finds the melody of "The Room Where It Happens" from the musical "Hamilton" stuck in his head. In the song, Aaron Burr, singing the chorus, is envious of figures who made major decisions around the birth of the United States while he was left out.
No one really knows how the game is played
The art of the trade
How the sausage gets made
We just assume that it happens
But no one else is in
The room where it happens
Kehoe, on the other hand, gets to be in that room each and every day.
"I like to think of the big things that are really big accomplishments," he said. "There is really big news sent across space and I know that it's my team and my camera that are giving it to the world: Supreme Court nominations, Mueller, Zuckerberg testifying about Facebook.
"That excites me to see those things everywhere. When I see a good picture and it sounds good and everyone gets the soundbite they need because I was in the right place at the right time, that's really satisfying to me."
---