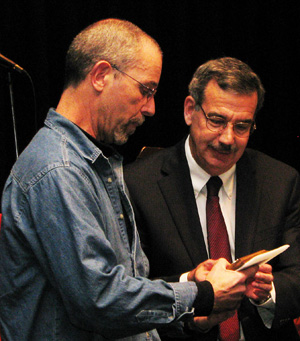 12/07/2012

Mitchell C. Seamans, one of the most familiar and friendly faces on the SUNY Cortland campus, received the prestigious 2012 President's Award for Excellence in Classified Service.
SUNY Cortland President Erik J. Bitterbaum presented the award to Seamans, a motor vehicle operator who delivers campus mail, on Dec. 7 at the 43rd annual Service Recognition Ceremony. Sponsored by the College's Human Resources Office, the ceremony was held in the Corey Union Function Room.
"I try hard to get to know the names of everyone on campus and I do pretty well," Bitterbaum said. "But there's at least one person who works here who can recognize just about everybody. That person is Mitch Seamans. Mitch faithfully delivers the campus mail on time through all kinds of traffic and weather, and always with a big smile.
"His positive attitude is truly a gift to his colleagues and we are most pleased to recognize him for that."
The award was created in 2002 to annually recognize one individual "for extraordinary achievement and to encourage the continuation of excellence." Nominees must be current SUNY Cortland full-time classified service employees with at least three years of continuous service. Supervisors, co-workers or other College community members nominate the workers considered for this honor.
A 26-year College employee, Seamans has handled campus mail deliveries and pick-ups since 1988. He and his co-worker alternate between driving around the sprawling campus and sorting the mail into a stacked row of bins fitted inside the delivery van. Nearly everyone at SUNY Cortland sees his cheerful face in one place or another, whether he's outside slipping the College van into a parking space, curbside or facility loading dock, or inside coming to or from the building's mailroom.
Much of Seamans' work goes on behind the scenes. He also visits the Cortland Post Office to receive or drop off what's typically a large cartload of P.O. Box 2000 mail. Much of his time is spent at the Commissary/Receiving building, speed-sorting mail, working as a team with colleagues operating postage machines or handling large, heavy packages.
Mitchell C. Seamans prepares to drive around campus collecting and delivering the mail. In the image above left, he accepts the President's Award for Excellence in Classified Service from SUNY Cortland President Erik J. Bitterbaum.
Rhonda Moulton, secretary I in the Dean's Office of the School of Arts and Sciences, said this about Seamans: He "takes the responsibility of campus mail courier and motor vehicle operator very seriously, and I am always confident that our on- and off-campus mail is leaving our building and arriving at its destination safely and on time."
Moulton was last year's honoree and she submitted the nomination for Seamans to receive this year's award.
"I appreciate that Mitch demonstrates a true passion for his job," she wrote in her nomination form for Seamans, whom she sees lugging crates of mail past her office every day of the week. "I admire how he treats everyone he sees.
"He is competent and truly excels in accomplishing his job duties, not only by his good work, but by adding a genuine smile and terrific demeanor every day of the week."
In nominating Seamans, Moulton wrote that he handles sensitive personnel-related mailings with great care and confidentiality. She offered an example of how he always strives for excellence, regardless of external circumstances. With the current Bowers Hall and Dowd Fine Arts Center renovation projects underway, he has had to stay on top of department and office moves all across campus.
"He once told me that if we needed to know where someone was on campus to just ask him," Moulton wrote.
Once, after Dowd Center closed, Moulton was unclear where to send an unstaffed office's mail.
"He spent two days tracking down the new location of the office and would not give up until he found the correct mailbox — something I admire and appreciate."
Seamans joined the College in 1986 as a cleaner and was promoted to motor vehicle operator a little more than two years later.
Seamans is passionate about '57 Chevys and enjoys motorcycles. He is devoted to his Doberman, Earl. A 1976 graduate of Cortland Sr. High School, Seamans lives in Cortland with his wife, Laurie. They have two grown children.
---