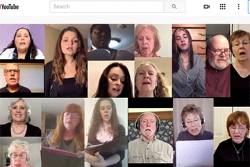 06/09/2020

A very old tradition at SUNY Cortland, the Choral Union's spring concert, didn't take a break this year for the COVID-19 pandemic.
Well after the campus closed down during March, a part of the group of students, faculty and community members who make up the choir raised their voices to sing the haunting strains of the 2016 melody, "When the Earth Stands Still," by Canadian composer Don MacDonald.
The song, which meditates on a forest encounter during a calm before the storm, can be viewed on YouTube.
To perform the piece, choir members needed to practice safe social distancing in light of the COVID-19 pandemic, explained choir director David Neal, professor of performing arts at SUNY Cortland.
They shared their individual components of the song via Zoom, said Neal, who also teaches courses in applied voice, and works with the musical theatre group.
Simple, right? Wrong. Anyone who has listened to professional broadcasters on network TV knows that the remotely spaced dialog sequence between interviewer and subject usually happens, well, a bit out of sequence.
"There's a sound lag," Neal said.
So MacDonald's song, if recorded off a collective Zoom gathering, would punish instead of soothing the ears of listeners.
"The recording did not happen simultaneously," Neal explained.
"It's a complex process, putting one of these virtual concerts together."
Neal studied the technology and sent everybody a guide track for the song that featured himself conducting and Alan Giambattista playing on the piano while a metronome kept the time.
Not every student and community member in the Choral Union could participate due to a lack of technology, Neal said.
"Those who did listened with earbuds so others could not hear it and recorded their track individually and sent it to me."
Neal had the separate recordings delivered to the university's sound engineers, Finger Lakes Audio Video Recording LLC, which synchronized the sound and video files, a fairly laborious process.
"We need to do our teaching online at this point and so I'm researching for software that can work without so much of a time lag," Neal noted. "It hasn't come out yet but they are getting closer."
The result of everyone's effort is music for our times.
"I chose this composition, which was on our program when we were working live before the shutdown," Neal said. "I chose it because the text is very relevant, expressing the need for human beings to connect in the face of a threat, a storm, which is what we have all been living through."
The recording also will be posted on the Rose Hall website.
---