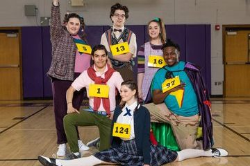 03/26/2019

"May I have the definition of the word?"
"Can I have the language of origin?"
"Could you please use it in a sentence?"
Most 12-year-olds don't use these phrases on a regular basis.
But for the six oddball middle schoolers of the "The 25th Annual Putnam County Spelling Bee" trying to control their sweaty palms and rapidly beating hearts, those lines mean it is their time to shine.
SUNY Cortland's presentation of this crowd-pleasing musical comedy about competitive spelling opens on Friday, April 5 in the intimate Dowd Fine Arts Center Lab Theatre.
Sara Den Bleyker, a junior from Rochelle Park, N.J., plays Logainne Schwartzandgrubenierre, the youngest and most high-strung of the spellers. The name of Den Bleyker's character points to the musical's absurd humor but she also appreciates the heartwarming way it treats the six awkward spellers.
"I think there is a sort of nostalgia behind it," Den Bleyker said. "Even if you weren't a kid who was in spelling bees when you were younger, I think it's a show that everyone can relate to because everyone went through adolescence and went through the things the kids are going through in the show."
Chip Tolentino, the defending champion of the Putnam County Spelling Bee, will be played be Anthony Acevedo, a sophomore from Port Washington, N.Y. The character is an athlete and a Boy Scout who finds himself hilariously struggling with his changing body in the middle of the competition.
"I relate to Chip a lot. I see a younger version of myself in him so it wasn't that hard to get into the character," Acevedo said. "Plus, it's super funny. It's a bit of a challenge for me because I see myself as more of a dramatic actor, so playing a comedic character is tough but it's very fun and it's opened my eyes a lot."
The humorous nature of "The 25th Annual Putnam County Spelling Bee" means that SUNY Cortland's student actors have spent time working on their comedic chops.
Kiera Welsome, a sophomore from New York, N.Y., is no stranger to musical comedy, as it happens to be one of her favorite genres. However, Director Deena Conley has worked with students on the delivery of comic lines so that they mesh with everything the audience has already learned about the character.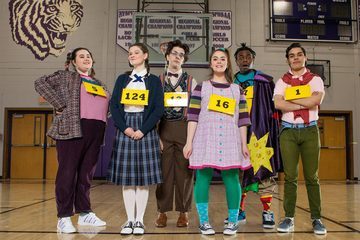 "You're playing a real person and you're not saying it to get a laugh, you're saying it genuinely and it just happens to be funny," Welsome said. "So it's about the intention more than saying it because we want the audience to laugh. This is a real person who really feels that way and is saying that and it just so happens that it's insane and absurd and that's why it's funny."
Welsome plays Marcy Park, the perfectionist from a strict family who speaks many languages, is an All-American hockey and rugby star and plays multiple instruments.
Maurice Jerry, a junior from Baldwin, N.Y., plays Leaf Coneybear, a home-schooled student who comes from a family of hippies. He has tried to tap into his own youthful spirit to capture Leaf on stage, which he hopes is one of the main messages attendees take from the show.
"There is a lesson of just being happy and enjoying life and to find that inner child and that inner kid," Jerry said. "It's a fun show to see and I hope audiences love the show. There is some audience interaction that we'll be doing."
In the cozy Lab Theatre, audiences may feel like they are right on stage with the spellers.
"This is not like any other show that you've seen," Acevedo said. "You go to musicals that are funny and plays that might be sad but this show is just so hilarious and so interactive with the audience that you can't leave and not be happy. It just brings the best out of people, for the actors on stage and the people in the audience."
"The 25th Annual Putnam County Spelling Bee, which opened April 5, will be performed on April 11 at 7:30 p.m., April 12 at 7:30 p.m., April 13 at 7:30 p.m. and April 14 at 2 p.m.
The venue is limited to 70 general admission seats per performance. There will be no late seating after the show starts.
Tickets are $19 for adults, $16 for senior citizens and SUNY Cortland faculty and staff, $14 for SUNY Cortland alumni and $10 for current students. They are available at Cortland.edu/boxoffice.
Student actors performed "I Speak Six Languages" on WSYR's "Bridge Street" on April 4. View a video of the song online.
---