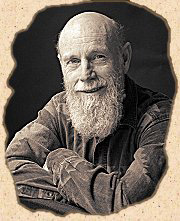 11/01/2012

John Muir, the Scottish-born American naturalist, author and early advocate of preservation of wilderness in the United States, will pay a visit, courtesy of the acting skills of Lee Stetson, during the 62nd annual SUNY Cortland Recreation Conference Thursday, Nov. 8, and Friday, Nov. 9, at the College.
Muir, who founded the conservation organization Sierra Club and whose activism helped to preserve the Yosemite Valley, Sequoia National Park and other wilderness areas, died almost a century ago.Stetson's re-enactment of the great naturalist, at 7 p.m. on Thursday, Nov. 8 in the Corey Union Function Room, is free and open to the public. In the presentation of "The Spirit of John Muir," Stetson will lead participants on a fun romp through some of the very best of the naturalist John Muir's grand, thrilling adventures in his beloved western wilderness.
Stetson's historical re-enactments through John Muir Productions have been presented in Yosemite National Park since 1983 to more than a quarter of a million visitors and have toured the country from Washington D.C. to Hawaii. He took part in Ken Burn's critically acclaimed PBS series "National Parks — America's Best Idea."
That day Stetson will give a second special session at the all-conference gathering, from 4 to 5:30 p.m. in the same location.
John Crompton, among the world's foremost experts on marketing and financing public leisure and tourism services, will deliver the prestigious Metcalf Endowment Lecture at this year's conference. Crompton, a university distinguished professor of recreation, park and tourism sciences at Texas A&M University, will discuss "Getting Past the Labels: What Business Are We In?" at 1 p.m. on Friday, Nov. 9, in Corey Union Function Room. The lecture is free and open to the public.
John Crompton will keynote this year's conference. Lee Stetson, portraying the late naturalist John Muir (shown on the upper left), will be a highlight of the conference.
Crompton's talk will address the issue that too many people associate with this field: the inherent triviality of recreation activities rather than the profound personal and community benefits that they deliver. The presentation will explore those benefits and suggest how they can be communicated more effectively to taxpayers and elected officials.
"Spark Your Inspiration With Recreation" is the theme of the two-day gathering, the nation's oldest continuous collegiate-sponsored recreation education conference.
Sponsored by the College's Department of Recreation, Parks and Leisure Studies and the Campus Artist and Lecture Series, the conference receives additional support for its Metcalf Lecture from the Metcalf Endowment Fund.
"The conference theme is intended to inspire one and all to be motivated to pursue goals, positively change day-to-day behaviors and encourage others to do the same," said conference co-coordinator Meaghan Stadtlander. "Recreation can help the mind and body during activities and throughout everyday life at work, school and home."
"The conference planning class has been working hard since January to coordinate and organize this event," added conference co-coordinator Jessie Kushaney. "We encourage anyone involved or interested in the field of recreation to attend."
Registration takes place at 7 a.m. on both Thursday and Friday in Corey Union. The fee is $125 for professionals and $60 for SUNY Cortland students to attend both days; and $90 for professionals to attend Thursday or Friday only. The non-SUNY Cortland student group rate to attend both days is $60 each for 10 or more students. The additional cost to receive Continuing Education Unit (CEU) credits is $8. The registration fee includes meals.
Additional information may be obtained by calling (607) 753-4939, by e-mailing recconf@cortland.edu or online at www.cortland.edu/recconference, where the brochure and registration form may be viewed or printed. Online registration is available through the website at sites.google.com/a/cortland.edu/recconf/registration.
More than 300 students and professionals are expected to attend the conference, which will offer more than 50 educational sessions and practical workshops on recreation management, therapeutic recreation, outdoor recreation, environmental education, and leisure and society. A research symposium also is planned.
Topics will include the national trails system, adaptive skiing and snow sports, the national parks service, motivation, personal happiness, reconnecting children with nature, inclusion, teambuilding, personal growth, stress management, generational differences, playground accessibility, outdoor recreation, and ethics, among others.
The conference is planned and directed by SUNY Cortland recreation majors in the Special Events Planning class taught by conference advisor Leiko Benson, an adjunct professor in the Recreation, Parks and Leisure Studies Department.
The students and the committees they chair include:
• Adam Houle of Angelica, N.Y., graphics and printing;
• Dan Maximowicz of Binghamton, N.Y., finance;
• Jessie Kushaney of Auburn, N.Y., hospitality and program co-coordinator;
• Kelsey Persons of Syracuse, N.Y., alumni affairs and volunteer;
• Matt Wryk of East Aurora, N.Y., public relations and marketing;
• Meaghan Stadtlander of Saratoga Springs, N.Y., registration, office manager and program co-coordinator;
• Mitch Galvin of Oswego, N.Y., special programs;
• Stephaney Dery of Lakeville, N.Y., program; and,
• Tyler Merriam of Saranac Lake, N.Y., research symposium and evaluation.
Cortland alumni presenting at this year's conference include William Zimmerman '76, Karen Pittleman '79, Celeste Bernardo-Dunn '85, Jim Raulli '87, John LaRue '89, Eric Byers '90, Frances Pizzola '86, David Peppel '97, Andrew Pierce '97, Bruce Matthews '77, Jacqueline Johnston '08, Karen Armstrong '98, Jessica Daily '01, Art Servidone '00 and Amy Kochem '08.
This year, the conference social will take place from 5:30 to 8 p.m. on Thursday, Nov. 8, at Brix Pubaria on 60 Main St. in Cortland. The event is sponsored in part by Parkitects.
Crompton, who currently also serves Texas A&M as a Regents professor and a Presidential Professor for Teaching Excellence, received his basic training in England at Loughborough College, where he earned undergraduate degrees in physical education and geography and a Master of Science in Recreation and Park Administration. He also has an M.S. from University of Illinois.
In 1970, he joined Loughborough Recreation Planning Consultants (LRPC) as their first full-time employee. When he left as managing director in 1974, LRPC had developed into the largest consulting firm in the United Kingdom specializing in recreation and tourism, with a full-time staff of 25 and numerous part-time associate consultants.
In 1974, he joined Texas A&M University, where he also received his doctorate in recreation resources development.
He has taught graduate and undergraduate courses in both the Recreation and Parks Department and the Marketing Department at Texas A&M. Crompton presently teaches exclusively in the Recreation, Park and Tourism Sciences Department. He also was chosen as the university's Cintron University Professor for Excellence in Undergraduate Teaching.
Possibly the most published scholar in the history of both the parks and recreation, and the tourism fields, Crompton is the author or co-author of 18 books and a substantial number of published articles in the recreation, tourism, sport and marketing fields. He has conducted many hundreds of workshops on marketing and financing leisure services. Crompton has delivered keynote addresses at the World Leisure Congress and at annual national park and recreation conferences in Australia, Canada, Great Britain, Japan, New Zealand, South Africa and the United States.
Among his many awards and honors, Crompton was recognized with a National Park Foundation's Cornelius Amory Pugsley Award for outstanding national contributions to parks and conservation.
The National Recreation and Park Association (NRPA) presented him with its Distinguished Professional Award, National Literary Award and Theodore and Franklin Roosevelt Award for outstanding research. The Society of Park and Recreation Educators named him a Distinguished Colleague. Crompton has received the Travel and Tourism Research Association's Travel Research Award. The U.S. Department of Agriculture bestowed on him its National Award for Teaching Excellence.
Crompton is a Minnie Stevens Piper Professor for Excellent Teaching in the state of Texas. He accepted the Bush Excellence Award for Public Service personally presented by President George H. W. Bush.
Currently a board member of the National Recreation Foundation, Crompton was a member of the NRPA's Board of Trustees for nine years. He is a past president of four professional associations, the Texas Recreation and Parks Society, the American Academy of Park and Recreation Administration, the Society of Park and Recreation Educators and the Academy of Leisure Sciences.
In 2006, the city of College Station, Texas, named a new 16-acre neighborhood park, John Crompton Park. Crompton served four years as a city councilman for College Station from 2007 to 2011, and was mayor pro tem in 2010-11 of the city of 95,000 residents.
---