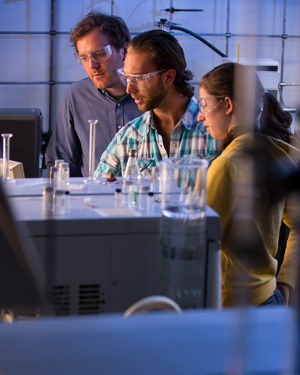 04/15/2014

SUNY Cortland will celebrate the major renovation of Bowers Hall, the College's hub of scientific research and discovery, with a grand re-opening ceremony Friday, April 25.
The event, which is open to members of the campus community, begins at 11 a.m. in the building's first-floor lobby. It will mark the completion of a major $43 million upgrade and a major step forward for the sciences at SUNY Cortland. The College's Biological Sciences, Chemistry, Geology and Physics departments all reside in Bowers Hall.
College President Erik J. Bitterbaum will offer remarks along with Dean of Arts and Sciences Bruce Mattingly and Tyler Potter, a senior chemistry major from Queensbury, N.Y. Assemblywoman Barbara Lifton and Sen. James L. Seward also are expected to attend.
A reception and building tours will follow the ceremony.
The extensive renovation project, which broke ground in 2012, brings several technological updates to Bowers Hall classrooms, laboratories and the building's state of the art planetarium. Modernized additions also include a long laptop docking station and an open student lounge area off the first-floor lobby.
Even the outdoor landscape has been re-imagined to act as a demonstration site for ecology and plant life, instead of a simple grass lawn.
Rather than tear down the building and fill the air with debris, SUNY Cortland opted to renovate the original shell of Bowers Hall, which was originally built more than 50 years ago in 1963. The project eventually will pursue Leadership in Energy and Environmental Design (LEED) certification.
Campus community members who plan to attend the ceremony can RSVP online by Friday, April 18.
---