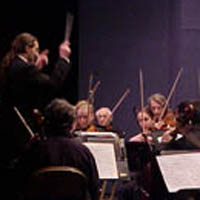 04/10/2012

"Souvenirs!" is the theme of the SUNY Cortland College-Community Orchestra concert set for Tuesday, April 17, in the Dowd Fine Arts Theatre.
Directed by Ubaldo Valli of the Performing Arts Department, the concert will begin at 8 p.m. and is free and open to the public.
The program will feature music by four composers: Wolfgang Amadeus Mozart's overture from "The Abduction from the Seraglio"; Virgil Thomson's "The Plow that Broke the Plains Suite"; Louis Gottschalk's "Souvenir de Porto Rico," and; Pyotr Ilyich Tchaikovsky's "Capriccio Italien."
Thomas Hischak, Performing Arts Department, is the narrator for the Thomson piece.
For more information, visit the Performing Arts Department website at http://www2.cortland.edu/departments/performing-arts/or call the office at (607) 753-2811.
---