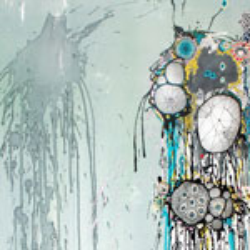 03/14/2013

SUNY Cortland's upcoming Dowd Gallery exhibition digs into contemporary embroidery as an expressive art form and the different approaches to the ancient needlework technique.
"Threads: Contemporary Embroidery," a show curated by Dowd Gallery Director Erika Fowler-Decatur and Associate Professor of Art and Art History Jenn McNamara, runs from Tuesday, March 19, to Thursday, April 25. The exhibition, which is free and open to the public, features work from nine artists at the Dowd Gallery's temporary off-campus location at Main Street SUNY Cortland, 9 Main St.
The College's gallery is based on the third floor of Main Street SUNY Cortland for approximately two years while the Dowd Fine Arts Center undergoes renovations.
Gallery hours are 10 a.m. to 6 p.m. from Tuesday through Friday and 10 a.m. to 2 p.m. on Saturday. The gallery is closed on Sunday and Monday.
"Chance of Flurries," by Nava
Lubelski, is a 46 x 36-inch acrylic
paint and hand-stitching on canvas.
An opening reception will be held from 4:30 to 6:30 p.m. Thursday, March 21, and a talk by featured artist Joetta Maue takes place at 5 p.m. Wednesday, April 3. Additionally, two hands-on embroidery workshops take place Wednesday, April 17, and Wednesday, April 24, from 5:30 to 7:30 p.m. at SUNY Cortland's fibers studio, located at 22 W. Court St.
The workshops, led by McNamara and featured artist Karin Birch, are free and open to the public but registration is required. Email Fowler-Decatur or call her at 607-753-4216 to register or to schedule a group tour of the Dowd Gallery.
The upcoming exhibition features the work of five women and four men who take unique approaches to embroidery. Besides Birch and Maue, the contemporary artists include Orly Cogan, Andrea Dezsö, Angelo Filomeno, Kent Henricksen, Nava Lubelsk, Tom Lundberg and Clay McLaurin.
Short descriptions of their work follow:
The expertise of Birch and Filomeno earn both a place in the virtuoso category. Filomeno, apprentice to a tailor in Italy at age 7, creates embroidered paintings that feature ominous, dream world imagery. Birch uses specialized stitches and beading to achieve texture in her finely detailed pieces.
The central subject of Maue's work is the bed, a place where a range of human emotion can be experienced, from pleasant retreat to unwelcome confinement. She uses linens created by women of a previous era as the foundation for her own work.
Cogan also employs found embroideries in her pieces. Her representations of contemporary feminine archetypes sharply contrast with the original, vintage depictions.
Dezsö's work is inspired by the folk science of her mother and prior generations of women in Transylvania, where she was born.
Henricksen's embroideries combine history, fantasy and reality as a reflection of the ways in which people view and deal with atrocities.
Lubelski's artwork emphasizes the push and pull between impulses to destroy and repair while McLaurin's embroidered drawings instead map an evolving path that suggests the organic process of growth cycles in the natural world.
Lundberg's "microcosms" provide a glimpse into his musings on the intersection of nature and the human race.
"Threads: Contemporary Embroidery" is supported by The Cortland Fund, Cortland College Foundation, an Auxiliary Services Corporation grant and the College's Center for Gender and Intercultural Studies.
For more information, contact Fowler-Decatur.
---