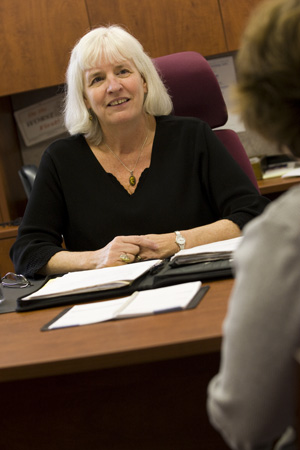 12/15/2015

After more than a quarter century of service to SUNY Cortland, Assistant Vice President for Human Resources Joanne Barry retired from the College effective Nov. 18.
Praised as an effective leader by faculty and staff members from across campus, Barry earned the State University of New York's Lifetime Achievement in Human Resources Award in 2014 for her career contributions on campus and throughout the state system.
Barry joined the SUNY Cortland staff in 1990 as a personnel associate and was promoted to senior personnel associate/affirmative action officer in 1997. She assumed leadership of the Human Resources Office in 2000 when she was appointed director of personnel. In 2007, she was elevated to assistant vice president for human resources.
Barry's guidance positively influenced countless SUNY Cortland policies and procedures, including internal promotion, interim appointment and workplace bullying policies. Additionally, programs were initiated that included alternative work schedule, phased retirement, faculty and staff onboarding and leadership training.
---