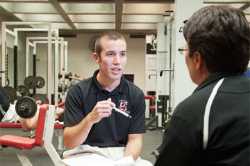 03/04/2015

SUNY Cortland will introduce a new physical education master's degree this summer that's offered almost entirely online to teachers looking to become school district leaders in the discipline.
The Master of Science in Physical Education Leadership follows a hybrid format, which means all courses will be delivered online with the exception of a one-time, on-campus requirement for two weeks during the summer. Students can pursue the 30-credit program full time or part time.
"We wanted to change the delivery system to open enrollment to a wider population," said JoEllen Bailey, an associate professor of physical education and the program's coordinator. "We were hearing from a lot of students that they wanted online programs."
Previously, the College's Physical Education Department offered a master's degree with a concentration in physical education leadership exclusively on campus. In January, the new online program was approved to meet National Association of Sport and Physical Education advanced standards for teacher education. The basic goal is to produce well-trained leaders of quality physical education programs.
"Every district is required to have a physical education director," Bailey said. "This is a natural step to becoming a physical education director."
Graduate students will work with school district leaders to build their knowledge and professional administrator skills. Projects will include a needs assessment, analysis of teaching lessons, evaluation of a school curriculum and creation of a curriculum trend proposal. Students will be tasked with using their research and data for program improvement.
The program's Research in Physical Education and School-Based Leadership courses only will be offered in person on the SUNY Cortland campus during the summer.
"That's the basis of the entire program," Bailey said. "We wanted to deliver that in real-time meetings with students."
Applicants can begin the program in the summer, fall or spring but should note the application deadlines for each session: Wednesday, April 1, for the summer session; Wednesday, July 1, for the fall semester; and Tuesday, Dec. 1 for the spring semester. Applications submitted after the deadline may be considered on a space availability basis.
For more information on the master's program in physical education leadership, including admissions criteria, visit the Physical Education Department webpage or call the department at 607-753-5577.
---