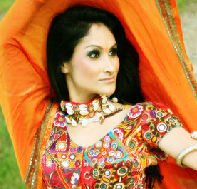 10/21/2013

Vibrant, colorful and energetic dancing will invade the SUNY Cortland campus when Sonalee's Bollywood Dance Company performs on Saturday, Oct. 26.
Traditional and contemporary East Indian "Bollywood" dance styles, classical Indian dance, Indian folk dance, jazz and hip-hop will be performed to Latino and Arabic sways beginning at 8 p.m. in Corey Union Function Room.
A free dessert reception also will be provided at the event, which is presented as part of the College's Family Weekend programming.
Ticket prices are $6 for adults and all students and children are admitted free. Tickets will be available at the door one hour prior to the performance or in advance in the Campus Activities and Corey Union Office, Corey Union, Room 406, weekdays between 8:30 a.m. and 4 p.m. or by calling 607-753-5574.
The Campus Artist and Lecture Series (CALS) sponsors the performance.
Sonalee Vyas emigrated to the U.S. from India when she was 14 years old, bringing with her 10 years of training in Indian classical dances — Bharat Natyam and Kathak— along with Bollywood, jazz, ballet, tap, modern and Latin dance styles. She has performed in the U.S. for the past 12 years and has gained worldwide recognition as both a dancer and choreographer.
She founded the dance company Naach Sensation and currently is the creative director of Sonalee's Dance Studio. She has received numerous awards including the Asian American Heritage Council award.
More information about Sonalee's Bollywood Dance Company can be found online at www.sonalee.com.
---