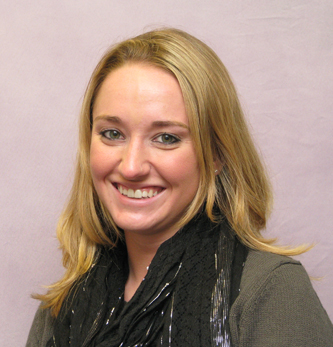 02/27/2012

Tau Sigma, a national academic honor society that promotes the academic excellence and involvement of transfer students, has recognized a SUNY Cortland student as one its 2012 scholarship recipients.
Alexis Robinson, a junior communication studies major from New Berlin, N.Y., won a scholarship worth $500. She was among 33 students around the country to receive a 2012 award.
The Cortland Chapter Scholarship Review Committee considered her high academic achievement and contributions to Tau Sigma, the College and the Cortland community, in submitting its nomination of Robinson to the national chapter, which awarded the scholarship.
"I transferred from the University at Buffalo to SUNY Cortland because of the College's friendly atmosphere and its almost limitless opportunities to get involved on the campus," Robinson said.
Robinson has maintained a 3.8 grade point average while at SUNY Cortland.
Since her transfer as a sophomore, Robinson has completed an internship with the SUNY Cortland Alumni Association. Elected president of the Student Alumni Association, she also served as promotional co-chair of the Student Activities Board. She participates in the Cortland Dance Company.
Robinson signed up to be a Transfer Buddy in 2011, joining a mentor program at SUNY Cortland that eases the transition for transfer students.
"I had a Transfer Buddy when I came to SUNY Cortland," Robinson said. "It was very helpful to always have someone to talk to.
"Now, I can be there for other transfer students."
In the community, Robinson has volunteered at the Cortland Pumpkin Fest, a fall festival that takes place in October, and helped provide relief to Fall 2011 flood victims in New York state's Southern Tier.
---