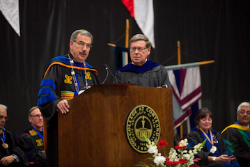 05/15/2017

New York State Sen. James L. Seward, a tireless champion for SUNY Cortland during more than three decades in state government, received the College's Presidential Champion of Excellence Award during SUNY Cortland's undergraduate Commencement ceremonies on May 13.
Seward, who has supported key policy initiatives important to the College and secured tens of millions of dollars in funding for campus projects, was only the third person ever to receive this honor.
The award is given at the discretion of President Erik J. Bitterbaum to recognize individuals who have made significant contributions to the pursuit of excellence at SUNY Cortland. The medal, which expresses the College's admiration and appreciation for extraordinary service and leadership, was given to Brian G. Murphy '83 in 2012 and Louise M. Conley in 2016. Both Murphy and Conley are former chairs of the Cortland College Foundation.
Seward's contributions to SUNY Cortland have been transformational. His influence has played a role in nearly all of the College's capital improvements in recent memory.
His support for the construction and marketing of the 8,000-seat SUNY Cortland Stadium Complex, for example, changed the landscape of the campus. Since opening in 2002, it has become a nationally recognized landmark representing the College and its stellar athletic programs.
The new complex also was an important factor in attracting the New York Jets summer training camp to Cortland, as were the improvements Seward helped fund to make the camp possible, including an access road and renovations to Corey Union. The Jets training camp generated nearly $24 million in economic activity for Cortland County during its five-year run on campus.
Seward's support for the 150,000-square-foot Student Life Center similarly changed the College landscape and revolutionized campus life. Since its opening in 2015, the one-of-a-kind facility has become a symbol for the high-quality, active student life available at SUNY Cortland, enhancing the institution's recruitment and retention efforts.
The senator's assistance also has been instrumental to the continued excellence and growth of the College's diverse academic programs.
Academic capital projects he was involved with include the renovation and expansion of Bowers Hall into a state-of-the-art hub for scientific research and hands-on-instruction. Since its opening in 2014, it has helped lead to renewed interest and focus on science at SUNY Cortland.
Seward's involvement in other academic projects included funding for the College's three-story School of Education Building and child-care center, which opened in 2009. A transitional administrative building called Studio West was transformed into the Professional Studies Building, an academic complex that opened in 2011. At Memorial Library, a Learning Commons was created to offer a variety of academic services.
Most recently, he supported SUNY Cortland's massive effort to replace and upgrade the College's aging electrical infrastructure and secured funding for the $2 million reconstruction of the tennis courts.
A strong legislative advocate for higher education, Seward backed proposals such as the Rational Tuition Program, which were critical to SUNY Cortland's continued financial health. He also supported a ground-breaking financing approach that allowed the College to establish 3,600 solar panels on campus, creating a model for other public campuses.
As the long-serving representative of the State Senate's 51st District, Seward represents several communities with higher-education institutions as their hub. That has given him a comprehensive understanding of both the needs of Upstate New York colleges and their neighboring communities.
SUNY Cortland first honored this understanding and commitment in 2004 when the College Council recognized Seward with its College-Community Appreciation Award.
---