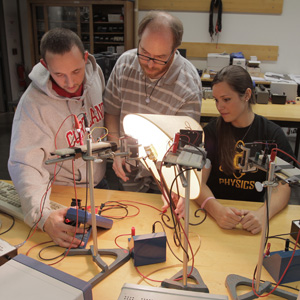 04/16/2013

SUNY Cortland this fall will add two new master's programs — sustainable energy systems and communication sciences and disorders — aimed, in part, at preparing people for local careers and benefitting the community.
Both programs will offer a master of science on a two-year track. College faculty members involved in the process to establish the new graduate degrees designed the curricula to meet the needs of both prospective students and the Central New York community.
"It's this idea of regional economic development meeting a need for people who are going to get a degree and stay in your area," said Brice Smith, chair of the College's Physics Department and the key shaper of the science-based sustainable energy systems curriculum.
Here's a closer look at each of the new graduate programs:
Master of Science in Sustainable Energy Systems
The program will prepare students for a critically important field that impacts engineering firms and building performance companies. It will offer advanced training in the physics of renewable energy, courses geared to build professional skills in areas such as economics and communication, and a culminating internship.
Put simply, the program will support the development of high-paying "green collar" jobs in Central New York while helping to build the sustainable energy infrastructure needed for the 21st century.
"These are jobs that, by their nature, can't be outsourced," said Smith, a former project scientist for the Institute for Energy and Environmental Research whose major areas of interest include renewable and sustainable energy. "You have to be here to install the systems. It's an area that has a lot of upside for graduates."
Smith sees the program pulling from two distinct populations — recent undergraduates with a degree in the sciences or engineering as well as people already working in the field who are looking to find deeper training in the physics and technology that underlie their profession. Although the master of science degree is rooted in physics, its prerequisites are intentionally flexible, so that anyone who has taken introductory level physics and calculus classes could be brought up to speed.
The program has applied for a sought-after professional science master's (PSM) certification, which is awarded to curriculums that integrate science and mathematics studies with training in additional professional areas. SUNY Cortland's master of science in sustainable energy systems will cross disciplines to include courses in accounting, marketing and professional writing beyond the scientific and technical training.
That certification also denotes programs that provide workplace skills valued by employers, which is why the College organized a business advisory board made up of people working in areas such as renewable energy, engineering and economic development to assess the program.
Two grants from the Alfred P. Sloan Foundation, totaling more than $15,000 and received through the SUNY system, helped fund curricular development and a market needs assessment.
"People generally know the technology or they know the business but finding someone who can do both, especially in a small to medium-sized company, is important," Smith said. "This program is meant to address that need that we see in the region."
Master of Science in Communication Sciences and Disorders
SUNY Cortland's Communication Disorders and Sciences Department, which offers increasingly popular undergraduate majors, now will also offer an advanced degree for competitive graduate applicants. After years of planning, the program recently earned candidacy approval from the Council on Academic Accreditation in Audiology and Speech-Language Pathology (CAA), an arm of the American Speech-Language-Hearing Association (ASHA).
That new master's program should add more speech, language and hearing services for the local community.
"To me, it's a win-win situation," said Regina Grantham, chair of the department, which currently enrolls more than 240 undergraduates. "We'll be able to provide even more services for the community and crucial clinical experience for our students."
When the College's Professional Studies Building opened two years ago, a new 8,000-square-foot clinic with an audiology chamber, observation and therapy rooms, a library and a resource area for the Communication Disorders and Sciences Department came with it. Clients, representing a range of disorders and ages, benefit from the services provided there by students, faculty and staff members. The new master's program will allow the department to provide services to an even larger audience and a greater variety of disorders, Grantham said.
A lengthy accreditation process required many levels of approval — from the College, SUNY system, the New York State Department of Education and ASHA's CAA. Grantham credited the department's faculty members and College administrators for working as a team to complete the process.
"We're a master's level profession, which means that to work in any setting — schools, hospitals, rehabilitation centers, nursing homes, private practices — students will need a master's degree," she said. "With technology and other kinds of medical innovation, more people are living longer today and they will need our services, both diagnostic and therapeutic.
"We offer a very attractive and popular major and a very needed one at that."
To learn more about SUNY Cortland's newest graduate programs, contact the College's Graduate Admissions Office at 607-753-4800.
---