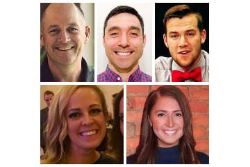 09/26/2017

Five successful SUNY Cortland graduates will return to their alma mater to speak with students who are interested in pursuing careers in communications on Monday, Oct. 2.
The informal panel discussion, presented as part of the College's 2017-18 Alumni Speaker Series, starts at 7 p.m. in Corey Union Fireplace Lounge. It is free and open to the public.
The panelists include:
Charles "Chuck" Beeler '84, director for public relations at marketing company Eric Mower and Associates in Syracuse, N.Y.;
Danny Catalano '08, a career coach at the App Academy, a computer software training school with offices in New York and San Francisco;
Kaitlin Bartlett '10, a brand advocate and relationship manager for Terakeet, a digital marketing company in Syracuse, N.Y.;
Emily Carroll '16, a marketing associate at CXtec in Syracuse, N.Y.; and,
Robert Galm '17, a member of the broadcasting team at ESPN in Bristol, Conn., assisting with highlights.
A few of the scheduled speakers explained how they became the successful professionals they are today.
Beeler, who earned a degree in communication studies, said he has been working in public relations for 32 years, the last 27 with his current employer, which has nine offices across the country.
He attributes part of his success to extracurricular activities during college, including as a student intern with the Communication Studies Department office and as a varsity football player for two years.
Bartlett earned a degree in sport management and has been with her current employer for the past four years.
Bartlett said her favorite aspect about her alma mater is the connections she made while in school, which have become most beneficial in the years after college.
"I can't thank my professors enough for their constant guidance, support and friendship," she said.
In college Bartlett interned with the Syracuse University athletics marketing department, assisting with in-game promotions for Syracuse football, men's and women's basketball and men's lacrosse.
After her internship, she took a position with SIDEARM Sports, a software and technology company that powers collegiate athletic websites all over the country. In 2013, Bartlett moved to the Amyotrophic Lateral Sclerosis Association, a non-profit that addresses the neurodegenerative disease ALS, and spent a year coordinating four Walk to Defeat ALS events all across Upstate New York and raised more than $475,000 for individuals with the condition.
The careers in communications panel is the first of three discussions planned with alumni professionals throughout the semester. The remaining Alumni Speaker Series events include:
Careers in Networking: Marketing, Public Relations, and Event Management panel at 5:30 p.m. on Monday, Oct. 30 in Corey Union Function Room.
Careers in Sport Management panel at 7 p.m. on Monday, Nov. 6, in Corey Union Exhibition Lounge.
The Alumni Speaker Series is sponsored by the Alumni Engagement Office and Career Services. For more information, visit the Career Services website or call 607-753-4715.
Prepared by Communications Office writing intern Navita Ramprasad
---