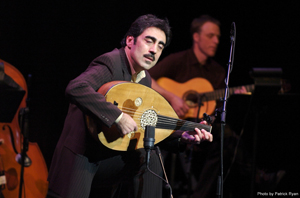 02/27/2012

Simon Shaheen, a contemporary Arabic music virtuoso, will perform a variety of musical styles on a mix of Middle Eastern and Western instruments on Thursday, March 22, at SUNY Cortland.
Shaheen, whose musical compositions earned him a National Endowment for the Arts grant, will demonstrate his talents as part of the Simon Shaheen Trio at 8 p.m. in the Corey Union Function Room.
The performance is part of the College's Campus Artist and Lecture Series. Tickets to the performance cost $3 for SUNY Cortland students and $5 for all others. The exception is children 10 and younger, who are admitted free. The performance is general admission seating.
Advance tickets can be purchased in Corey Union, Room 406. Any unsold tickets will be made available for purchase at the door, beginning one hour before the event. All ticket sales are final and there will be no refunds or exchanges. For more information, contact the Campus Activities and Corey Union Office at (607) 753-5574.
Shaheen, who received the National Heritage award at the White House in 1994, mixes a variety of jazz, classical, and western elements into his music. Noted internationally for his style and grace, Shaheen's talents on the oud — a pear-shaped stringed instrument commonly used in North African and Middle Eastern music — and violin make him one of the most significant and innovative Arab musicians.
"I want to create a world exceptionally satisfying to the ear and for the soul," said Shaheen, who has performed in famous concert arenas such as Carnegie Hall and Theatre de la Ville in Beirut.
Palestinian-born Simon Shaheen will perform on March 22 at SUNY Cortland.

Born in the Palestinian village of Tarshiha in the Galilee, Shaheen's childhood was steeped in music. His father, Hikmat Shaheen, was a professor of music and a master oud player.
"Learning to play on the oud from my father was the most powerful influence in my musical life," Shaheen recalled.
He began playing on the oud at the age of five, and a year later began studying violin at the Conservatory for Western Classical Music in Jerusalem.
"When I held and played these instruments, they felt like an extension of my arms," Shaheen said.
After graduating from the Academy of Music in Jerusalem in 1978, Shaheen was appointed its instructor of Arab music, performance and theory. Two years later he moved to New York City to complete his graduate studies in performance at the Manhattan School of Music, and later in performance and music education at Columbia University.
His current focus is leading a performing group called Qantara. The group explores the world of fusion music by taking a labyrinth-like journey through the sounds of the Middle East. Qantara's album, Blue Flame (2001), was nominated for eleven Grammy awards. During the 1990s, he composed five other albums.
"The musical cross-pollination works because Shaheen offers meticulously conceived arrangement in which the oud, violin, saxophone, guitar and percussion all speak a glorious international musical language," a New York Times reviewer said of the album.
When Shaheen is not busy composing or performing with Qantara, he tours as a solo performer and holds academic discussions and workshops to educate students about Arabic music.
For more information about the Simon Shaheen and the Shaheen Trio, visit the website at www.sroartists.com/artists/simonshaheen/index.php.
---