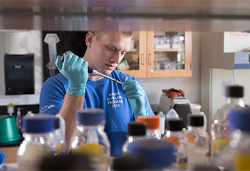 11/08/2016

Nov. 18 Event Showcases Natural Sciences Majors
Prospective students interested in a career in the sciences can participate in SUNY Cortland's Natural Sciences Department Showcase on Friday, Nov. 18.
Register for the event online.
The daylong event offers a special campus visit experience for students interested in the College's biology, chemistry, geology and physics departments.
The program will include a tour of Bowers Hall, SUNY Cortland's recently renovated science facility and opportunities to meet with professors and students.
The showcase will begin at 10 a.m. at Miller Building, 21 Graham Ave., at the Admissions Office. A campus tour will be followed by lunch and an information session. At 1 p.m., introductions and department overviews will begin in Bowers Hall, Room 1129. Two afternoon breakout sessions will conclude at 2:40 p.m., followed by a planetarium show from 2:50-3:30 p.m.
For more information, contact Admissions at 607-753-4711 or by email to admissions@cortland.edu.
---