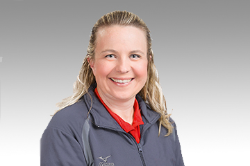 07/18/2017

Nicole Wentz has been selected as the new women's volleyball head coach at SUNY Cortland in an announcement from director of athletics Mike Urtz. Wentz served as the head women's volleyball coach at Keystone College in La Plume, Pa., for five seasons from 2012-16 as well as two years from 2003-04.
Wentz takes over for Pam Hoerup, who is leaving after 12 seasons to pursue other educational opportunities. Hoerup led the Red Dragons to a combined 331-142 record, six SUNYAC titles and six NCAA tournament appearances, including a national quarterfinal appearance in 2011.

"I want to extend my thanks and appreciation to Director Urtz, Associate AD Courtney Wormuth, Assistant AD Jaclyn Lawrence and the rest of the search committee for sharing in my vision for what I believe is going to be a tremendous opportunity at SUNY Cortland," Wentz said. "Throughout the interview process, it was apparent that Cortland is committed to athletics and the volleyball team's success, both on and off the court, and I look forward to contributing to the rich traditions of the Cortland volleyball program.

"I am grateful to the administration for the opportunities that I had at Keystone College over the past five years and feel that the Keystone program is stronger than when I started. My experience there has helped prepare me to begin this exciting new chapter of my career. I will bring that same competitive spirit, intensity and sense of team to Cortland."

Wentz led the Giants to a 21-10 overall record and a 10-1 record in the Colonial States Athletic Conference (CSAC) during the 2016 season. Her squad made its second straight conference playoff appearance for the first time in school history and advanced to the title match before falling in five sets to top-seeded Cabrini.

In 2015, Wentz guided Keystone to a 21-7 overall mark and a 9-2 league record and was named the CSAC Coach of the Year. Over the past five years, she has coached 11 all-conference players, with her players also earning three all-region awards and two All-America honors.

In addition, Wentz was selected in 2013 as a member of the NCAA Division III women's volleyball top 25 ranking committee. She served as the chair of the AVCA Mid-Atlantic All-Region committee and held a spot on the organization's All-America committee.

"We are very excited to have Nicole join our staff and lead our women's volleyball program here at SUNY Cortland," said Urtz. "Nicole's vast experience in the sport should serve our student athletes well, creating a positive and competitive environment for the young ladies to grow and prosper in."

Prior to her first stint at Keystone, Wentz was the head coach at Franklin and Marshall College, where she led the Diplomats to 28 wins, a conference title and a national ranking in 2002 along with 22 victories in the 2001 season.

Wentz is an alumna of Muhlenberg College (Pa.) She earned a bachelor's degree in business administration and played four seasons on Muhlenberg's volleyball team during a stretch of a school-record five consecutive 20-plus win seasons. She started her collegiate coaching career as an assistant coach at Division I Lehigh University in 1998 and was an assistant at Division I Temple University in 1999 for an Owls' squad that won its third straight Atlantic 10 title and competed in the NCAA playoffs. She earned a master's degree in athletic administration from Temple.

Wentz and her husband, Jeremy, have four children – Jackson, Brielle, and twins Colton and Caleena.

---