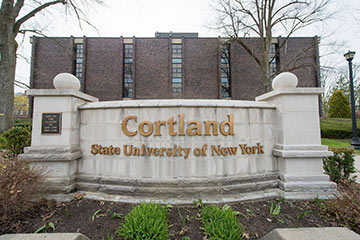 06/26/2020

The following message was sent to the SUNY Cortland community on behalf of President Erik J. Bitterbaum:
This week, SUNY Cortland sent an expanded reopening plan to SUNY system administration to meet new requirements for resuming on-campus instruction this fall. I encourage you all to review it. This document will give students, families, faculty and staff a sense of the extensive measures we are taking to prevent the spread of COVID-19 and the significant change to our campus lifestyle that will be required.
The proposal, which must be approved by SUNY and is subject to change, is available on our SUNY Cortland Restart Website.
Among the temporary policies that will define our "new normal" in the fall are many behavioral changes that we should all be prepared to exhibit. They include:
Face coverings
Everyone on campus will be required to wear a face covering when social distancing is not possible. On SUNY Cortland's campus, that will include during all in-person classes, while walking between classrooms and facilities, while in dining areas and in other situations where people are likely to come within close proximity to others. Students will be required to wear face coverings in all residence hall common spaces, including hallways.
Social distancing
Institutional policy will require all people on campus to maintain 6 feet of distance from others. To accomplish this, we will reconfigure nearly all indoor spaces for academics, recreation, dining and residential life. We will also alter scheduling, limit campus access, change pedestrian traffic patterns and implement new policies and educational efforts aimed at changing campus behavior. The Residence Life and Housing Office is working on changes in the use of lounges and other group spaces in residence halls.
Combined experiences
Most aspects of life at life at SUNY Cortland in the fall of 2020 will combine real experience with elements of virtual participation. A majority of courses are likely to be taught in this hybrid format in order allow social distancing in classrooms. Campus gatherings, such as student organization meetings, will likely be held virtually. Students should expect that most residence hall meetings and appointments with hall staff will be virtual.
Please keep in mind that our restart plan reflects a balance between our commitment to offer a high-quality and transformative educational experience and our pledge to protect the health of our students, faculty, staff, visitors and neighboring community.
This week, as we move closer to our hopeful return to campus in late August, there have been several other developments:
The Residence Life and Housing Office developed an extended move-in timeline for residence halls, during which students living on campus will be given designated arrival times. These assigned times will be viewable to students online when assignments go live on Aug. 1. Res Life is working on policies related to opening that will further limit the density of people on campus during move-in. Information about these changes to move-in will be shared with students via email and added to our website throughout the summer.
The university has secured additional student housing near campus and has designated spaces for quarantine and isolation. The added student housing location will be fully staffed and will be equipped with the services our on-campus halls offer.
The directive for all non-essential SUNY Cortland employees to work remotely was extended to July 31. SUNY Cortland's facilities, operations and services staff, however, will return to 100% essential staffing on Monday, June 29. We appreciate the dedication and professionalism shown by these employees, who will work diligently to prepare our campus for the return of our non-essential workforce, faculty and students.
Although there are still many unanswered questions related to the Fall 2020 semester, I am confident that our plan will guide us through a safe and successful academic year.
All the best,
Erik J. Bitterbaum
President, SUNY Cortland
---