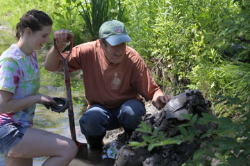 11/08/2016

For centuries, scientists from around the globe have probed the secrets of an ancient azure pigment known as Maya blue that vanished thousands of years ago. Maya blue is singularly resilient, adding color to Maya artifacts millennia after other pigments have worn away.
Although descendants of the Maya have begun creating ceramic pottery using the traditional methods of their ancestors, they had long ago lost the recipe used to create the durable paint ancient Maya artisans began using on ceramics and stonework around A.D. 300.
Until, that is, SUNY Cortland senior Kelly McKenna figured it out.
McKenna, an art history major and archeology minor, drew on her chemistry background and began a quest to find the right mix of natural compounds that would yield a contemporary blue paint that closely mimics the lost, nearly permanent, sacred pigment of the Maya.
Having earned an undergraduate summer research grant to recreate the rare pigment, McKenna — under the supervision of SUNY Cortland's Jeremiah Donovan, a professor of ceramics in the Art and Art History Department — rolled up her sleeves and dug clay from the banks of the nearby Groton River. Her work paralleled the process the Maya used to collect clay from the rain forest surrounding them.
Donovan's 40 years of experience studying ceramics in international cultures — including the unique clay compositions yielded by differing geographical locations — helped discover that local source of suitable clay. Working with Scott Moranda, an associate professor in SUNY Cortland's History department, he examined the distinctive sediment of the Groton river.
"[Moranda] and I walked the land this past summer and discovered old brick factories in the area, which also had areas of clay excavation," Donovan said.
With the help of Moranda's historical research on Groton's brickyards, Donovan deduced that the local river would house the 'right' clay for McKenna's experiments."Together Professor Donovan and I used shovels to dig up a decent amount of clay to make about 20 test tiles," McKenna said. "Digging clay, especially when wet, is a laborious task."
Kelly McKenna, an art history major and archeology minor, and Jeremiah Donovan, a professor of ceramics in the Art and Art History Department
Working mainly out of the ceramics studio, McKenna spent roughly 35 to 40 hours a week measuring and processing clay, using a kiln to heat tiles and alter chemical composition.
"There wasn't a typical day per se. Each day was different and each day required a new way of looking at the problem to find a solution," McKenna said. "Whether it was that the pigment ratios were not quite right or the scales couldn't register such a fine amount, each day was a new challenge."
Uniquely singular to that of the Maya people of Central America, this mysterious blue pigment is impervious to weathering, acid and harsh solvents. The resilient sky-blue hue remains vibrant on pottery, murals and other artifacts produced by the Maya people centuries after other colors have faded away.
Scientists have long known that the remarkably stable Maya blue results from a unique chemical bond between indigo dyes from the Añil plant and palygorskite, a clay mineral with unusual properties. But it was unclear how the ancient Mayas made the mixture so durable.
That's the secret McKenna set out to discover. After conducting a number of tests by heating a mixture of palygorskite with a small amount of indigo dye, McKenna noticed there was a missing piece — an adhesive agent — that when added made the pigment the most resilient.
Replicating the mysterious Maya blue is no easy task. "There's a lot of trial and error," McKenna said. "I'm so grateful Professor Donovan was here to guide me when I was stumped."
"I tried four different materials to get adhesion: Copal Resin, Bentonite, Carboxymethyl Cellulose (CMC) and Gum Arabic," McKenna said. "The samples that had CMC added to the calcine pigment gave the best results."
This ambitious art history major will continue doing more research when she joins Donovan on a study abroad program in Belize in January to share her research discovery with the indigenous San Antonio Women's Collaborative. The pair plan to help the group of rural village entrepreneurs — which includes five artisans who demonstrated their craft at SUNY Cortland earlier this year — create the blue pigment using materials local to their region in the Central American country of Belize.
"Based on the work I've done just by being in a ceramics studio, it shouldn't be too difficult for members to make the blue pigment and apply it to their ceramics," McKenna said.
Members of the women's collaborative are now producing and selling authentic Maya pottery created using traditional methods developed thousands of years ago. The group re-learned the ways of their ancestors with the help of Donovan, and that of SUNY Cortland student researchers.
The ancient blue pigment has been absent from ceramics produced in the region since its disappearance. McKenna's discovery will help to further authenticate contemporary pottery as part of a millennia-old artistic tradition.
McKenna's research, the materials she used and the two pottery pieces to which she applied her recreated Maya blue pigment, are on display at "Future of the Past: Revitalizing Ancient Maya Ceramic Traditions in a Modern Maya Community," on exhibit at the Dowd Gallery through Thursday, Dec. 1. Along with 35 contemporary pottery pieces are 20 ancient Maya objects on loan from the Herbert F. Johnson Museum of Art at Cornell University.
An upcoming panel discussion, "Revitalizing Maya Traditions: Object, Place, Time," will take place at 5 p.m. Wednesday, Nov. 9, in Brockway Hall, Jacobus Lounge. Panelists will include Donovan; Sebastian Purcell, assistant professor of philosophy at SUNY Cortland; and John Henderson, professor of anthropology at Cornell University.
---