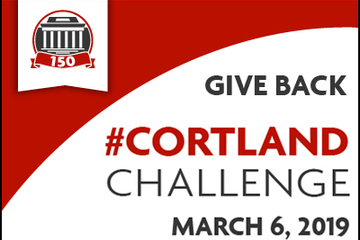 02/26/2019

Students filed into the Cortland Normal School for its inaugural classes on the first Wednesday of March in 1869.
In the century and a half since, the College has evolved into the vibrant institution we now know as SUNY Cortland. Access to a high-quality and life-changing education has launched more than 70,000 careers and created lifelong friendships and memories for Red Dragons around the world.
One hundred and fifty years later, on Wednesday, March 6, 2019, all members of the SUNY Cortland community will have an opportunity to help the College provide those same resources to the next generation of students.
The Cortland Challenge is the College's annual 24-hour giving challenge. Its goal is to get as many participants as possible, from alumni to faculty and staff and students and their parents. Returning for a second year is a simultaneous Athletics Challenge, which allows donors to support their favorite SUNY Cortland teams.
The College aims to build on its record-breaking 2018 Challenge effort, which received $151,360 from 1,384 donors.
"We were amazed by the support that we received last year during the Cortland Challenge," said Natasha McFadden, associate director for The Cortland Fund.
"We had no idea that it would be that successful, and we are so grateful to everyone who participated. It was so much bigger than we ever could have imagined. But, in true Red Dragon fashion, we're setting our goals higher this year."
A number of generous alumni have pledged matching gifts as incentive to hit key thresholds. Lynne Parks Hoffman '68 will give $5,000 to the SUNY Cortland Parks Alumni House Expense Fund once the Challenge receives 607 donors. Michael Leeolou '81 and Catherine Suarez Leeolou '81 have promised $10,500 at 1,000 donors. Patrick Mullaney '89 will give $10,000 if the Challenge gets at least 1,385 donors to break last year's record.
John Belmonte '85, Anthony Moon '86 and Susan Moon and the C-Club Board of Directors have combined to provide $10,200 in matching funds for the Athletics Challenge.
A general Athletics Challenge will award $1,000 to the general athletics fund if 500 or more donors give to any of the programs funds in athletics. SUNY Cortland's 20 athletic program funds will be broken into small, medium and large categories based on the number of alumni. The teams that are first to reach their donor marks receive $500 and the teams with the most donors will receive $1,000. Each team that meets its donor mark will receive $100. A trophy and $2,000 will be presented to the team with the most dollars raised and the team with the highest average gift will get $1,000.
Jane Grastorf '62 has pledged to give $3,000 toward the Challenge, which will be used as part of a Power Hour that will be announced on March 6.
Alumni are encouraged to help spread the word on social media using the hashtag #CortlandChallege.
To join the Challenge, visit RedDragonNetwork.org/challenge.
Making gifts online is easy but The Cortland Fund offers alternate payment options as well. For more information on how to submit a gift by mail, telephone or in person, visit RedDragonNetwork.org.
For more information, contact McFadden at 607-753-4910.
---