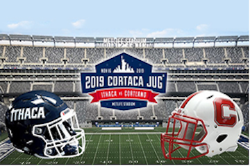 10/02/2019

Ticket sales for the 2019 Cortaca Jug game between SUNY Cortland and Ithaca College have set a new all-time record for a Division III football game, according to the New York City Chapter of the National Football Foundation, which is coordinating the historic game.
As of today, approximately 39,000 tickets have been sold for the game, which will be played on Saturday, Nov. 16, at 1 p.m. in MetLife Stadium, East Rutherford, New Jersey. The previous record of 37,355 was set in 2017 for a game held at Target Field in Minneapolis.
"We are thrilled to be making this announcement today," said Marc Hudak, chairman of the football foundation's New York City chapter. "It is a testament to the interest level and tradition of this game as one of the great small-college football rivalries in the country. I am appreciative of the partnership and collaboration that we have enjoyed on both campuses as this historic matchup approaches."
With six weeks to go, both Ithaca College and Cortland have sold out of their on-campus ticket allotments, and sales continue to be brisk on Ticketmaster.
"As evidenced by tickets sales, the enthusiasm displayed for this game by both the students and the alumni bases of Ithaca and Cortland has been phenomenal," Hudak said, "and I am optimistic that sales could exceed 50,000, especially if both teams continue to have strong seasons."
The SUNY Cortland Red Dragons and the Ithaca Bombers have had impressive early-season wins, and both are currently undefeated at 3-0.
"We are incredibly excited about this announcement, but we are not surprised," SUNY Cortland President Erik J. Bitterbaum said. "As more than 39,000 fans across both colleges will tell you, the Cortaca Jug is much more than a college football game. It is part of our history. And now, it's not just SUNY Cortland's history, but the history of college football itself.
"We are grateful for the opportunity to have MetLife Stadium to showcase both our players and the amazing school spirit that connects all SUNY Cortland students, alumni and supporters. At Cortland, we don't believe in half measures. We go all in. And that spirit is reflected by the amazing support given to this record-breaking event."
This year will mark the 61st time that Ithaca and Cortland have played for the Cortaca Jug, in what Sports Illustrated once referred to as "the biggest little game in the nation."
"This proves once and for all that the Cortaca Jug truly is the biggest little game in the nation," said SUNY Cortland Athletic Director Mike Urtz. "The numbers speak for themselves. The incredible fan support for this game is unlike anything else in Division III athletics."
The game not only sets a Division III college football record, but it gives each college the best-attended alumni event in its history.
"This is guaranteed to be the largest-ever gathering of IC alumni in one place at one time," noted Ithaca College President Shirley M. Collado. "But the number of tickets sold tells only part of the story. From the day the game was announced nearly 11 months ago, we promised to engage the entire campus community in this singular event. It has been exciting to witness the involvement of our students, faculty, staff and alumni in fulfilling that promise."
"We have been honored to work with the National Football Foundation and MetLife Stadium in support of holding the game in such a remarkable venue," said Susan Bassett, associate vice president and director of intercollegiate athletics at Ithaca College. "To have the opportunity to compete on that field is something that I know our coaches and players will cherish for the rest of their lives".
For more information on the history of the Cortaca Jug and this year's game, visit ithaca.edu/countdowntocortaca.
To purchase tickets to the game, visit CortacaJug.com.
---