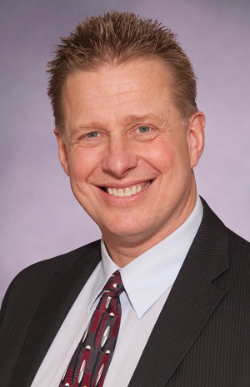 03/30/2011

Frederic Pierce of Syracuse, N.Y., the public relations director for the New York State Fair since 2008, joined SUNY Cortland as director of public relations on Monday, March 28.
Reporting to Raymond Franco, the College's vice president for institutional advancement, Pierce will oversee the College's media relations, external and internal communications, sports information, government relations, community relations and records access.
Pierce, who has worked more than 25 years in the communications field as a journalist, public relations professional and university instructor, will manage a six-member Public Relations Office staff. He will serve on key advisory groups, including the President's Council, and provide expertise and assistance to the other areas of the division: alumni affairs, fund raising, publications and electronic media.
"Fred's skills from two decades as an upstate New York journalist and his experience developed at the New York State Fair will transfer well to this position, and help ensure the university's continued success," Franco noted.
For three years, Pierce managed all public relations and marketing efforts for both the New York State Fair, New York's largest annual event, and the state Fairgrounds, which hosts more than 500 athletic, commercial and entertainment events throughout the year.
He also planned, wrote and oversaw production and distribution of a variety of Fair publications and marketing materials, including calendars, fliers, coupon books, daily programs and an annual Fair Visitors Guide with a circulation of 1.3 million.
Pierce coordinated the Fair's Internet activities, including an active Facebook page with more than 50,000 followers. He worked with consultants to redesign the Fair's website, established a Fair presence on Twitter, launched a digital Fair newsletter and moved the Fair to an entirely electronic press release distribution system. In both 2009 and 2010, the Fair's social media campaign was honored by the International Association of Fairs and Expositions.
"SUNY Cortland is an exciting institution that transforms students as it prepares them for the future," Pierce said. "You can feel the energy on campus, and I am thrilled to have an opportunity to help share the college's story with the public."
A native of Vestal, N.Y., Pierce grew up hearing positive stories about the college from his parents, who met while attending the school. He earned a Bachelor of Arts in government and in Soviet Studies from Cornell University in Ithaca, N.Y., graduating with distinction. He received a Master of Science in Journalism from the Medill School of Journalism at Northwestern University in Evanston, Ill.
Pierce began his journalism career in 1986, covering city hall for the Watertown (N.Y.) Daily Times.
In 1987, he joined The Post-Standard in Syracuse, N.Y., as a staff writer. Pierce researched and wrote on a wide range of topics, including government operations, education, high-profile crime, environmental issues, business development and the Central New York economy. He covered presidential, congressional, gubernatorial and local political campaigns.
As an assistant city editor from 1993-95, Pierce managed and supervised the newsroom night shift, working with reporters on breaking news and long-term projects. As a reporter, he won numerous awards from organizations that included the New York State Associated Press Association, the New York Newspaper Publishers Association and the Syracuse Press Club. He also pioneered the creation of two separate news blogs for Syracuse.com.
Pierce also worked as a freelance writer with Cool Travel Mail, Santa Monica, Calif., and GopherCentral.Com, Chicago, Ill. For eight years until 2007, he researched and wrote weekly Internet newsletters on a variety of travel topics.
And, as an adjunct professor at Syracuse University's S.I. Newhouse School of Public Communications, Pierce taught journalism skills to both undergraduate and graduate students for a decade.
He lives in Syracuse with his wife, Donna, and their two teenage children.
---