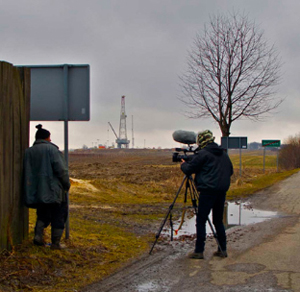 04/12/2013

Filmmaker Lech Kowalski will show and discuss his documentary film that contrasts the effects of the growing shale-based natural gas extraction industry on residents in Pennsylvania with their counterparts halfway around the world, on Wednesday, April 17, at SUNY Cortland.
The Central New York premiere screening of "Drill Baby Drill," and subsequent talk, begins at 7 p.m. on the second floor, Room 202, at Main Street SUNY Cortland, 9 Main Street.
Presented by the Environmental Justice Committee of the Center for Gender and Intercultural Studies and Gas Drilling Awareness for Cortland County, the event is free and open to the public. Donations to help cover the filmmaker's expenses will be accepted at the door.
A native of Utica, N.Y., who lives and works in Paris, France, Kowalski recently presented his 84-minute film in the French Senate and on French and German television, where it received high ratings. The documentary will be shown to the European Parliament on Tuesday, April 23, prior to its theatrical release.
Kowalski has won wide acclaim over more than 35 years as an independent filmmaker. His large body of work has received awards and has been the subject of retrospectives at international film festivals.
Filmed both in Poland and Pennsylvania, "Drill Baby Drill" tells the story of a group of Polish farmers who band together to protect their land when a form of unconventional shale-gas drilling called hydraulic fracturing "fracking" threatens.
Kowalski was there to film the first-ever farmer rebellion against Chevron, the world's fourth largest energy corporation. But energy companies and the Polish government hope to hit a golden shale gas jackpot, and the odds are against the farmers winning.
At first, the people who live in a small village located in eastern Poland near the Ukrainian border, an ecologically pristine agricultural area called the "lungs of Poland," are not against the construction of the shale gas well in their village. But research reveals that having an extraction site so near farms might not be such a good idea. The farmers mobilize, appealing to politicians and government institutions to stop the construction. Their requests are met with silence and, suddenly, Chevron sends bulldozers to start construction.
The documentary, which has a surprise ending, also explores the effects of ongoing drilling on farmers and their communities in Pennsylvania. Industry has called the region the "Saudi Arabia" of North America.
The film's power derives in part from its refusal to provide easy answers to the questions it raises about corporate power and its effect on democracy, and about the tensions between our demand for energy and the necessity of protecting our air, water, farmland and food supply.
According to organizers, the film's subject should be of strong, immediate interest to residents of New York, where energy companies are leasing land with plans to do similar drilling.
For more information, contact Sheila Cohen, associate professor emerita of literacy, at 607-756-8191 or Jim Weiss at 607-849-3687.
---