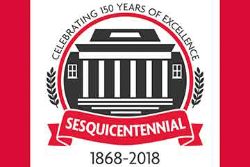 09/14/2018

Don't miss a chance to be a part of a once-in-a-century-and-a-half celebration! Make plans to enjoy the 150th Birthday Party Celebration on the SUNY Cortland campus Oct. 5 and 6. Students, faculty, staff, parents, alumni and community members — in short, everyone — are invited to celebrate the College's milestone event.
The weekend begins with an actual birthday party featuring cake, music, fireworks and more. It will be followed by a morning panel discussion about Cortland's legendary campus concerts (Billy Joel, The Eagles, James Taylor, the Beach Boys and lots of others), a Sesquicentennial carnival, the homecoming football game, an historic musical theater production and the 50th anniversary C-Club Hall of Fame induction ceremony.
"We are celebrating a special milestone for a very special college and we want the entire SUNY Cortland community — students, parents, faculty, staff, alumni and our Cortland and Central New York neighbors — to join the party," President Erik J. Bitterbaum said.
Here's what's happening:
Friday, Oct. 5,
6 p.m. — 150th Birthday Party Celebration, Moffett Center Lawn.
What would a birthday be without cake? President Bitterbaum will share remarks and performing arts students will lead the campus in singing "Happy Birthday
' prior to complimentary birthday cake being served. SUNY Cortland's Rock 'N Blues Ensemble will perform, along with several student groups. The evening concludes with a light show and fireworks. It's all free and open to all!
8:30 p.m. — "Annie Get Your Gun," Dowd Fine Arts Center, Main Stage
Help SUNY Cortland's performing arts program launch its 20th anniversary year by enjoying "Annie Get Your Gun," set in the time of SUNY Cortland's founding. This Irving Berlin musical features the story of sharpshooter Annie Oakley, a star of Buffalo Bill's Wild West Show in the latter half of the 19th century. Tickets are available through the Performing Arts box office.
Saturday, Oct. 6
10 a.m. — "Dream On," a panel discussion of the College's golden concert era and the evolution of the music business, by Union Station coffee shop in Corey Union.
Musicians, agents and promotors involved with a campus music scene that included Billy Joel, The Grateful Dead, The Eagles and many other legends, will share stories from this era (1960-90) and talk about survival and adaptation in the music industry. It's a "must-see" for anyone interested in the entertainment business or who remembers when students brought rock superstars to Cortland.
11 a.m. to 3 p.m. — 150th Birthday Party Carnival, Stadium Complex

The fun continues with carnival games and inflatables that's free and open to all. Get your Red on by visiting the Spirit Station before posing for a Birthday Party photo.
Noon — Football Game, Stadium Complex
Cheer on the Red Dragons as they take on SUNY Morrisville. Football tickets will be available for purchase at the gate; free to students, faculty and staff.
5:30 p.m. — 50th Anniversary C-Club Hall of Fame Induction Dinner, Corey Union Function Room
Eight new members of the C-Club Hall of fame will be inducted at the annual dinner in the 50th ceremony recognizing recognizes former Red Dragon athletes who have since distinguished themselves in their professions and within their communities. Those interested in attending Saturday's induction dinner can register online at www.reddragonnetwork.org (under "Events") or may contact SUNY Cortland Alumni Engagement at 607-753-2516 or alumni@cortland.edu. Deadline for registration is September 21.
7:30 p.m. — "Annie Get Your Gun," Dowd Fine Arts Center, Main Stage
ADDITIONAL WEEKEND ACTIVITIES
The 150th Birthday Party Celebration is held in conjunction with other events, including SUNY Cortland Family Weekend and the Great Cortland Pumpkinfest.
SESQUICENTENNIAL
Learn more about our historic year, take a tour of our College timeline and purchase a College history book at cortland.edu/150.
---