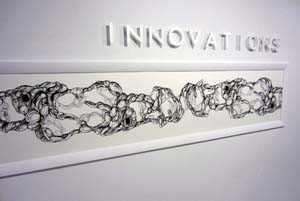 01/17/2012

A group exhibition that explores attributes of innovation is now open in Dowd Gallery at SUNY Cortland.
"Innovations," featuring the work of 17 artists, samples the latest technological developments and attitudes in the contemporary art scene. These include installation, video, painting, printmaking, drawing and sculpture. Selected artists from across the U.S. contributed to the exhibition.
"The impetus for this exhibition is to present a cross section of works created by artists using a conceptual approach to innovation," said Bryan Thomas, the interim director of Dowd Gallery. "By bringing a diverse collection into one space, we facilitate a path to discover connections and unexpected insights to their various processes.
"This project celebrates art that demonstrates forward momentum by choosing a new direction in visual art and enhancing traditional methods with modern means."
Two practicing artists will hold gallery talks that relate to the exhibit, which runs through Friday, March 2:
• David Mazure, of Milford, Pa., will discuss his drawings and the art making process as a method of unending discovery at 4:45 p.m. on Thursday, Feb. 2, in the gallery. He also will speak about scientific inspiration in the art making process and installation art.
Four archival pigment prints by artist So
Yoon Lym are featured in the "Innovations"
exhibition at Dowd Gallery. The prints,
from left, include: "Mario," "Antonio,"
"James," and "Taneisha."
• Matt Sheridan, of Los Angeles, Calif., will share stories from his career, which includes stints storyboarding for MTV's "Beavis and Butthead" and contributing to exhibitions in France and India. His talk, which takes place Thursday, Feb. 16, at 4:45 p.m., will include a discussion of his wide range of work.
All events are free and open to the public.
The 17 artists include: Rachel B. Abrams, Colin Blakely, Jessica Gondek, Patti Jordan, Scott Ludwig, So Yoon Lym, Scott McCarney, Anne Marchand, Mazure, Lori Miles, Rebecca Mushtare, Scott Oldfield, Sheridan, Kathleen Thum, Jake Winiski, Biying Zhang and Zelda Zinn.
Sponsors for the exhibition include the Roberta Gere Doering '46 Art Acquisition Fund, the Cortland College Foundation, Campus Artist and Lecture Series, the Art Exhibition Association and a small grant from Auxiliary Services Corporation (ASC).
Gallery hours are 10 a.m. to 4 p.m. Monday through Friday. For more information, or to schedule a tour of the Dowd Gallery, contact Thomas at (607) 753-4216.
---