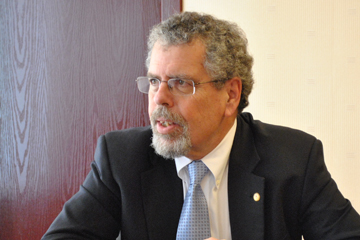 04/05/2016

The week ahead will be a homecoming of sorts for SUNY Cortland alumnus John Ryder '73, a respected international scholar who previously served the College as a faculty member and dean.
Ryder, SUNY Cortland's former dean of arts and sciences who now serves as provost and vice president for academic affairs and student success at American University of Ras Al Khaminah in the United Arab Emirates, will deliver the keynote talk Friday afternoon at "Transformations: A Student Research and Creativity Conference."
He also will offer two additional campus lectures on topics with international relevance. Ryder's full schedule of public talks includes:
Wednesday, April 6: "Russia and its Role in Contemporary Eastern Europe" will consider several issues of importance such as terrorism, Islamic fundamentalism and instability in the Middle East. The lecture takes place at 4:30 p.m. in Brockway Hall Jacobus Lounge.
Thursday, April 7: "East, West and in Between: Universities in the Arab World" will address the importance of Muslim higher institution institutions, including those satellite campuses with ties to the U.S. The talk begins at noon in the Old Main Colloquium.
Friday, April 8: "The World of Scholarship and Scholarship in the World: Life After Cortland" serves as the topic of Ryder's 'Transformations' keynote remarks. He speaks at 12:30 p.m. in Bowers Hall, Room 1129.
Ryder's ties to Transformations are particularly meaningful. In 1997, when he was dean of arts and sciences, Ryder was responsible for establishing Scholars' Day, the event that preceded Transformations.
In 2011, a special planning committee renamed and reorganized Scholars' Day to reflect the College's strategic priorities of providing a transformational education and fostering academic excellence. Celebrating its 20th anniversary this year, the day's activities continue to highlight student achievement and encourage scholarship in the future.
Ryder, who specializes in American philosophy and boasts extensive experience in international education, has worked full-time overseas for nearly six years. This summer, he will become the founding provost of the American University of Malta, a European island country located in the Mediterranean Sea. He previously worked as director of the SUNY system's International Programs Office and was the president of a university in the Eurasian country of Azerbaijan before taking his current job.
From 1980 to 2002, Ryder put together a distinguished career at SUNY Cortland beginning as a lecturer of philosophy. He eventually chaired the College's Philosophy Department and co-founded the Project for Eastern and Central Europe. Ryder served as dean of the School of Arts and Sciences from 1996 to 2002 before directing SUNY's Center on Russia and the United States, which created various exchange programs between the system and Russian institutions.
Ryder also has helped establish dual-degree programs with higher education institutions in China, Mexico, Turkey and several other countries. From 2002 to 2012, he served as president of the Alliance of Universities for Democracy (AUDEM), which united scholars representing all academic disciplines from the U.S. as well as Central and Eastern Europe.
His own research focuses on issues in systematic ontology and epistemology as well as social and political philosophy. Ryder has authored and edited many published works, most recently including The Things in Heaven and Earth: An Essay in Pragmatic Naturalism (Fordham University Press, 2013). His papers have been translated and distributed throughout Europe, where he continues to tour universities and conferences as a guest speaker.
Ryder's visit to SUNY Cortland is being sponsored by the College's Project on Eastern and Central Europe, the Transformations Committee, the Office of the Dean of Arts and Sciences and the Philosophy Department. Additional support has been provided by Auxiliary Services Corporation, the Clark Center for International Education, the International Programs Office and the History and Political Science departments.
For more information on Transformations, including the complete schedule of events, visit the conference's Web page or contact the School of Arts and Sciences at 607-753-4312.
---