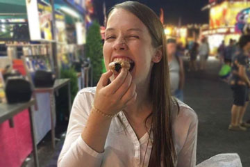 01/24/2017

When German international student Johanna Klauser bit into a deep-fried Oreo for the first time in the fall, she didn't know the moment would be captured in a photo.
Sure, she expected a sweet taste, but the end result was even sweeter.
That's because the photo earned Klauser first prize in the cultural category of the "Why I Love Studying in New York" photo contest organized by Study New York. The award, which was presented at the end of the fall semester, recognized a spur-of-the-moment photo snapped by a friend during a September trip to the New York State Fair in Syracuse.
Klauser, a business economics major at Fulda University in Germany, admits that she chose a semester-long study abroad experience at SUNY Cortland for many reasons — to learn more about the sports business world, to improve her English-speaking skills and to cross new cities off of her travel bucket list. The $100 Amazon gift card she won in the photo contest was a bonus.
International students representing more than 25 countries submitted more than 80 entries across three photo categories — campus, cultural and "selfie" — along with short videos. Study New York, a collaborative group made up of higher education institutions throughout the state, organized the second annual contest as a way to promote New York as the premier destination for students, faculty members and other exchange visitors.
You can view all of the photos on Study New York's Facebook page.
Klauser focused on sport management during her semester abroad at SUNY Cortland and chatted about her international experience on campus.
So how did you know about Cortland?
JK: I spoke with the international office (at Fulda) and told them that I wanted to study sport management abroad. They recommended the Cortland program …
I took four sport management courses — sport finance, sport event management, sport entrepreneurship and applied sport marketing and sales — plus I added Italian.
Did the experience in Cortland meet your expectations?
JK: Definitely. I would recommend it to anyone, especially if you're interested in sport management.
I mainly wanted to go to an English-speaking country — the U.S. or England — to improve my language skills, but I feel like I got so much more.
What specifically did you like about Cortland?
JK: The atmosphere, really. All of the professors — anyone who I talked to — they were so nice. Any time I had a question, they had an answer, and they tried to help in any possible way. It was really amazing.
It had to be a lot different from Germany, right?
JK: Oh, yes. It was different in a lot of ways. In Germany, you only have one final exam at the end of the semester and that's what your grade is based on. Here, you have tests, quizzes, regular assignments. Your grade is based on more than one thing …
I liked that the professors really care about you in Cortland. They know your name. That isn't always the case in Germany.
But I have to be honest, the food was different here. I feel like I ate my share of burgers and pizza in America. I'm ready to eat healthier when I go home.
Speaking of healthy food, what's the story behind the deep-fried Oreo photo?
JK: Well, I definitely wasn't expecting to win a photo contest. (SUNY Cortland's International Programs Office) went as a group to the State Fair. My roommate told me to try a fried Oreo and so I did that for the first time.
It was … nice. Very sweet. My friend Rebecca, from Australia, actually took the photo.
Where else did you go during your time in the U.S.?
JK: I did as much as I could. I went to Washington, D.C., Montreal and Boston with friends. I enjoyed a traditional American Thanksgiving with my roommate. We went to her home (in Chatham, N.Y.) … I also visited New York City three times, including once with my mom. It was her first trip there.
The single best part of your experience — what was it?
JK: I would say all of the people that I met. All of the international students — students from Australia, Afghanistan, Egypt, Canada — spent the first week before classes together.
The International Programs Office organized a lot of events and trips. That really helped to meet people from all over the world.
---