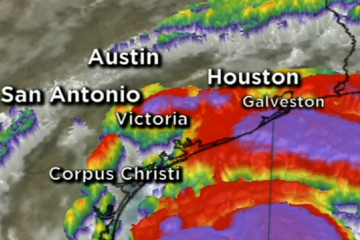 09/01/2017

SUNY Cortland students will have an opportunity to help victims of Hurricane Harvey by walking laps in Lusk Field House during a "Hustle for Houston" fundraiser sponsored by the College's Student Government Association.
The event will take place between 1 and 4 p.m. on Sunday, Oct. 1. Money raised will be donated to organizations involved in rescue and recovery efforts related to what scientists are calling the worst rainfall disaster in United States history.
"Everyone is watching this on TV, and as much as I wanted to help, I knew everyone on campus would want the opportunity to step up and help the victims of Hurricane Harvey," said SGA President Aristotle Arkayasa.
Members of the SUNY Cortland Community can participate by soliciting donations or donating themselves, either individually or as teams. SGA will track team donations, and expects Red Dragon competitive spirit will provide an extra incentive for giving.
Participants can register their team and get more information about the event by sending an email message to hustleforhouston@gmail.com.
All proceeds from the fundraiser will be donated to either the American Red Cross or Team Rubicon, a rescue organization that deploys teams of veterans and first-responders to help victims of large-scale disasters.
"We wanted to do something to bring our community together," said Zachary Curtis, SGA's chief financial officer. "Our country has been divided recently, and we know that our community is stronger than our divisions. We had to help."
"Hustle for Houston" is one of several humanitarian efforts related to the hurricane taking place on the SUNY Cortland campus:
On Saturday, Sept. 2, the College's Student Athlete Advisory Committee will collect monetary donations to help Hurricane Harvey victims from 11 a.m. to 2 p.m. during the football game (noon) at the SUNY Cortland Stadium Complex and from 10 a.m. to 5 p.m. during two volleyball games (11 a.m. and 4 p.m.) in Park Center Corey Gymnasium.
On Thursday, Aug. 31, SUNY Cortland's Auxiliary Services Corporation donated 1,700 bottles of water to a truck load of relief supplies provided by Cortland-area businesses that left town for Texas.
On Tuesday, Aug. 28, President Erik J. Bitterbaum sent a message to the SUNY Cortland community expressing concern for residents of Texas and Louisiana and sharing information about ways to support the relief effort and how to donate to legitimate aid organizations.
---