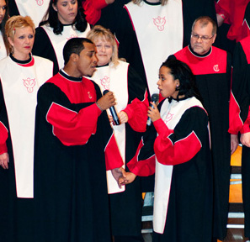 12/03/2013

The SUNY Cortland Gospel Choir will perform its Holiday Concert on Wednesday, Dec. 4.
The event, which begins at 7 p.m., will take place at the Christ Community Church located at 292 Tompkins St. in Cortland. A reception will follow immediately after the performance.
Directing Cortland's Gospel Choir will be Robert Brown Jr., Africana Studies Department.
The concert will open with a welcome and invocation, followed by "Every Praise," "Let's Dance" and "There's No Christmas Without You."
A Peanuts Christmas medley, "Christmas Time Is Here and O Christmas Tree," will be performed by Reggie Seigler on bass, Rob Brown on trombone, Andy Rudy on keyboard and Benjamin Terry, percussion.
Soloist Ellie Pacific will perform "Mary Did You Know?" and soloist Deston Hudson will sing "O Holy Night," followed by a full choir performance of "Alpha and Omega and "Break Every Chain."
Following an offering for Gospel Choir Student Scholarships and announcing the winner of the Holiday Basket Raffle, the concert will close with a performance of "How Great Our Joy" and from CD "Glad Tidings of Great Joy: A Christmas Blessing." The evening also features a Christmas sing-a-long with Dorothy Thomas at the piano.
For more information, contact Gospel Choir member Mary Massa.
---