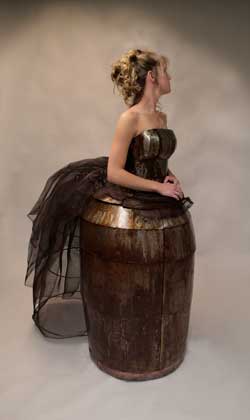 04/24/2012

Two SUNY Cortland Bachelor of Fine Arts (B.F.A.) seniors will hold opening receptions for their thesis exhibitions on Friday, April 27, at Cortland area galleries.
Lindsay Wilson will introduce "Curves of Steel" from 5 to 7 p.m. at Main Street SUNY Cortland, 9 Main St. with an artist talk at 6:30 p.m. Her show will be on display from Thursday, April 26, through Sunday, April 29. This solo exhibition can be viewed on the third floor open from 10 a.m. to 3 p.m. for the duration of the show.
Sarah Lampke will hold an opening reception for "Before I Wake" from 7 to 9 p.m., with an artist talk at 7:30 p.m., at 104 Main St., on the third floor above A Pizza & More. Her exhibit will be open from 2 to 4 p.m. on Saturday, April 28, and from noon to 2 p.m. on Sunday, April 29.
Sarah Lampke's "Wolfgirl" is part of her
"Before I Wake"
thesis exhibition.
The B.F.A. is a 73 credit hour intensive degree program within the Art and Art History Department that requires a portfolio review to enter. The senior year thesis project is intended for students who plan to pursue a professional career in art or to prepare for specialized graduate study, in particular the Master of Fine Arts degree. A cohesive body of work is developed from concept to exhibition, accompanied by written proposal, summary documentation and oral presentation. Entrance into senior thesis is by special permission attained through committee review of work at the end of the junior year.
"The thesis exhibit is a culminating experience comprising two semesters of working closely with three faculty committee members," said Jenn McNamara, assistant professor of art and art history and chair of the B.F.A. Committee. "This committee advises the students on the creation of a comprehensive body of researched artwork, a thesis paper and an oral defense."
For three years, Lampke, from Ithaca, N.Y., was selected to participate in the Best of SUNY Student Art Exhibition at the New York State Museum in Albany, N.Y., and twice selected as "Best of SUNY." Her work was featured in SUNY Cortland's student Select exhibits in 2010 through 2012, held in the Dowd Gallery, and in 2010 she won the College's Gerald N. DiGiusto Senior Scholarship Award. Between January and February, she held a solo show in downtown Ithaca, N.Y.
"Before I Wake" is a collection of works commenting on subjects of nudity, sexual behavior, bestiality, growth and destruction while investigating a sense of romantic enchantment.
"These works captivate a stark darkness and fairytale ambience," said Lampke. "The truth of the various bones extends energy into the evolution of the animal-human creatures. Small flowers bloom from the flesh of the figures, alluding to a harmonious web, a romantic hope."
Lindsay Wilson's "Cold Rolled Pleats" is part
of her "Curves of Steel" thesis exhibition.
Wilson, from Tully, N.Y., is a dual major in fine arts and mathematics. Her artwork is a personal exploration of gender stereotypes. She employs social and cultural constructs to drive her work, focusing on uniting culturally labeled "feminine forms" with culturally labeled "masculine materials." Wilson is a metal fabricator who transforms rigid metal into soft, elegant, curving garments and sculptural forms.
Wilson was selected for the Best of SUNY 2011-12 Student Art Exhibition Best in Show for "Steel Maiden II," which is currently on exhibit at the New York State Museum. She received the SUNY Cortland Gerald N. DiGiusto Senior Scholarship Award in 2011, the Beard Gallery's "Here We Go" Best in Show for "Steel Maiden," the American Juried Art Salon's Decorative Arts International Show Merit Award for "Geared Up" and the Best of SUNY 2010-11 Student Art Exhibition Best in Show's Honorable Mention for "Geared Up." In 2010, Wilson was the SUNY Artist of the Week in December and was awarded SUNY Cortland's Student Select Best in Show for "Geared Up."
For more information, contact McNamara by email or at (607) 753-4411.
---