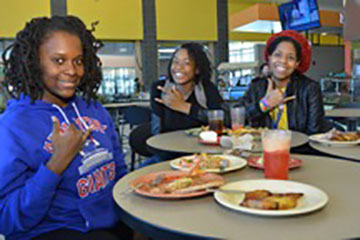 05/17/2016

Three national prizes recognizing quality and creativity in food presentation were awarded to Auxiliary Services Corporation (ASC), SUNY Cortland's campus-based, not-for-profit dining service provider.
The silver, bronze and honorable mention bring to 13 the total number of medals ASC has won since 2006.
Three special dinners that were served during the 2015-16 academic year — "President's Circle Dinner," "Luau" and "Wild West" — won praise in the 2016 National Association of College and University Food Services (NACFUS) Loyal E. Horton Dining Awards Contest. The quality and creativity of the food presentation won ASC's Campus Catering a silver medal for the Sept. 18, 2015, "President's Circle Dinner" event. Neubig Dining was recognized with a bronze medal for the March 8, 2016, "Wild West" event and The Bistro earned an honorable mention for the Oct. 8, 2015, "Luau."
"I'm proud of the dining management team for working together and with the campus community to put on these first-rate events every year," said Pierre Gagnon, executive director of ASC. "Our dining, catering and marketing team skills never cease to amaze me."
Since 2006, Dining Services has won 13 Loyal E. Horton awards, including three gold medals for residential dining events.
The silver medal-winning "President's Circle Dinner" event highlighted food and beverages from America, Italy, Africa and Asia. ASC focused on preparing culturally accurate food for each area and spotlighted its distinctive culinary style.
The bronze medal-winning "Wild West" event showcased western inspired food. Students enjoyed a western style breakfast followed by an all-day menu featuring healthy foods straight from the chuck wagon with a modern cooking twist.
"Luau" featured recipes from ASC employee Marsha Miner's Hawaiian family. Their deep-rooted Hawaiian traditions were key to The Bistro making each recipe authentic.
Marsha Miner is an ASC employee who inspired the Luau theme, which received an honorable mention from NACFUS Loyal E. Horton Dining Awards Contest.
"All of the events had a lot of different menu options and the campus had a fun time," Gagnon said. "Having Marsha help with the Luau recipes made it even more special."
ASC submitted digital scrapbooks for the NACUFS competition. Judging was based on several criteria, including menu selection, theme development, marketing of the event and overall impression. Scrapbooks and event pictures are posted here.
Founded more than 50 years ago, ASC also provides vending, campus stores, student ID cards and other essential services to the campus community.
The NACUFS has more than 1,000 institutional and industry members. Based in Okemos, Mich., the national association is dedicated to promoting the highest quality of food service on college and university campuses.
---