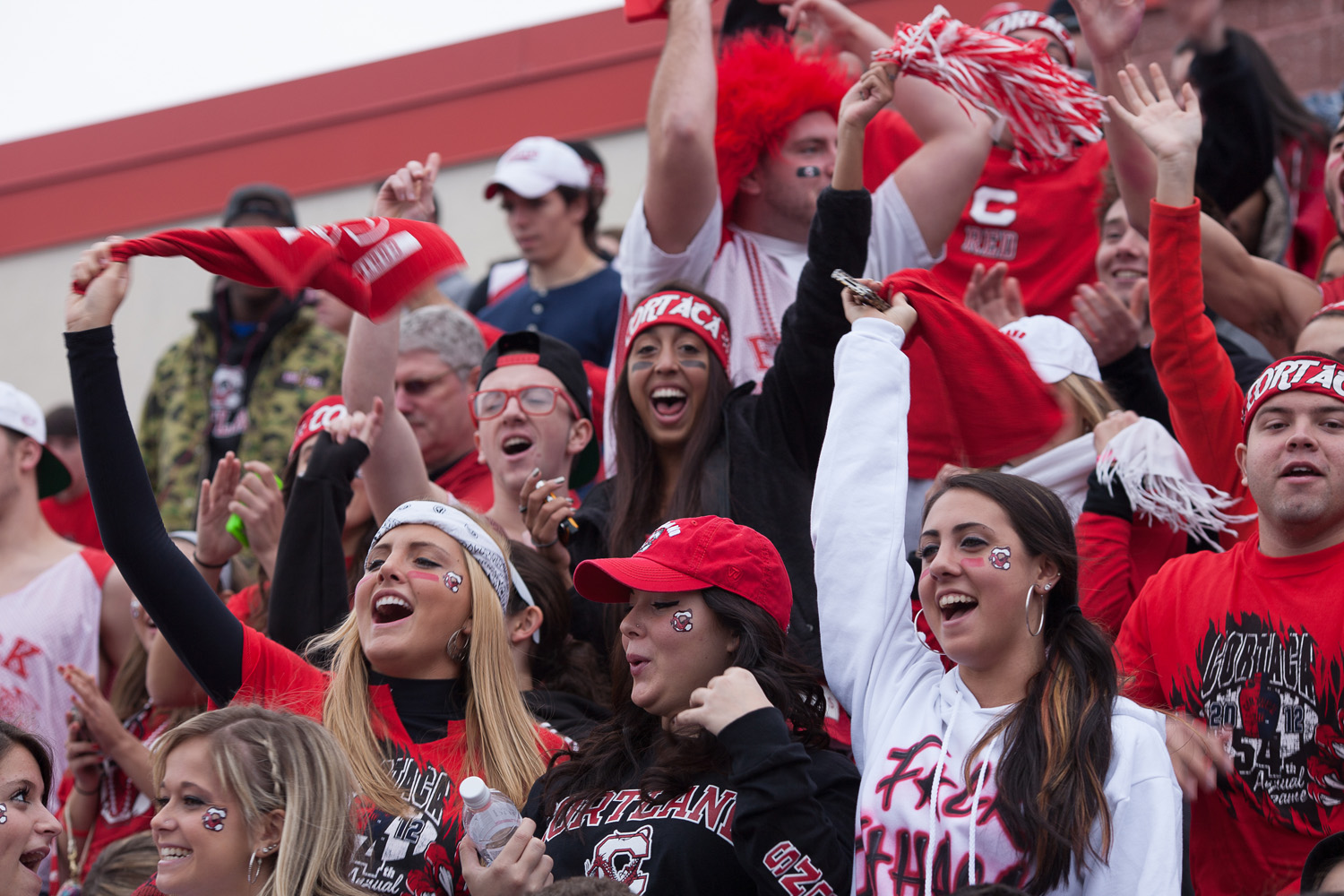 10/09/2014

For more than half a century, the football teams of SUNY Cortland and Ithaca College have played an annual rivalry game unlike anything else in Division III athletics. Sports Illustrated once described the rivalry as "the biggest little game in the nation." It's a distinction that students, alumni, guests and community members celebrate with pride.
That pride dimmed in the wake of the unacceptable behavior that erupted in Cortland during Cortaca weekend 2013. Following that disappointment, College and community representatives promised to take steps to prevent that situation from ever occurring again. They have kept their word.
With Cortaca Jug 2014 scheduled for Nov. 15, a little more than a month away, much has been done to ensure this year's weekend is fun, memorable and safe, including many of the recommendations outlined in a report by a special College and Community Commission created to address the problem.
A 13-member steering committee chaired by Kevin Pristash, director of SUNY Cortland's Student Union, and Matt Whitman, project manager for the Cortland Area Communities That Care Coalition, is coordinating the initiatives. They include:
Increased police presence. More police officers from Cortland and surrounding departments will be deployed throughout the weekend. Officers will begin patrolling much earlier on game day and the arrest process has been streamlined to keep more officers on the street. Officers with the New York State Liquor Authority are expected in Cortland during Cortaca Jug weekend to vigorously prosecute underage alcohol sales.
Advance warning. Officers have gone - and will continue to go - door-to-door at off-campus student residences, educating students about unacceptable behavior and warning of the consequences. This approach was successful in moderating behavior surrounding Spring Fling 2014. All students who live on Clayton Avenue will receive a letter of warning from the College, and the parents of those students will receive a written request from the College asking that they be aware of their child's behavior over Cortaca Jug weekend.
New legal tool. The Cortland City Council approved a social host ordinance that gives local law enforcement leverage against house parties that it didn't have in 2013. Officers can now arrest the host or hosts of any party at which an underage person is served alcohol. In conjunction with the city's nuisance party ordinance, this proved to be an effective tool during Spring Fling.
Increased fines. The city raised the penalty for first-time offenders to $100 for violating ordinances related to consumption of alcohol in public, possession of an open alcohol container, disorderly conduct, urination in public and unsanitary disposal of trash.
Additional events. The College is building a series of complimentary events around the Cortaca Jug football game that provide an alternative to alcohol parties. In addition to the annual Cortaca Mug event the night before the game, the Student Government Association is hosting a dance party featuring The White Panda with big-ticket prizes on Saturday evening after the game. Other events are in the works for the morning before the game and the weekdays leading up to Cortaca Jug weekend. A full listing will be released soon.
Social media monitoring. College officials and city police are monitoring the social media feeds that encouraged some of the more outrageous behavior from 2013. That monitoring recently resulted in an investigation of a downtown property damage incident. The College is working to make students aware that social media is not as anonymous as they think, and that offensive Internet postings can delay, or end, careers.
Targeted messaging. The College is reaching out to various groups with messages aimed at encouraging participation in Cortaca Jug celebrations while discouraging disrespectful or destructive behavior. A new webpage will go live within the next week that gives an overview of the Cortaca Jug and its history and provides buttons for students, alumni, community members and visitors to find information tailored to their needs. The key message is one of respect and responsibility, but the task force realized different messages would resonate with different audiences and this is an attempt to reach the different targets effectively.
Local bars. The College and the city are finalizing a voluntary agreement with local tavern owners to promote responsible practices and curtail unacceptable marketing practices. The document is patterned after a similar agreement between the Village of New Paltz and its tavern owners that has met with success.
T-shirts. The SUNY Cortland Alumni Association is sponsoring a student T-shirt contest aimed at promoting a positive message about Cortaca and offering an alternative to some of the offensive T-shirts that have been popular in recent years. A total of 38 entries were received. The College plans to work with Ithaca College to enforce the institutions' joint trademark ownership of Cortaca and legally prevent the sale of unauthorized "Cortaca" apparel.
Faculty and staff. Because of the influential role they play in students' lives, SUNY Cortland faculty and staff will be encouraged to engage students - to the extent they are comfortable - in discussions of alcohol abuse, student behavior, community respect, etc. General guidelines for these voluntary conversations will be available soon.
Student culture. The College is committed to positively altering the student culture at SUNY Cortland through education, awareness, peer pressure and a greater understanding that all actions have consequences.
This semester, the College worked with CACTC to implement a "Majority Rules" campaign, which seeks to show students that most of their fellow students are not engaged in the outlandish, inebriated behavior often celebrated on the Internet. Dozens of T-shirts with tips on how to "Party Smart" have been distributed and a SUNY Cortland webpage for the initiative will be live soon.
Also this semester, the Student Conduct Office sponsored a national speaker on alcohol abuse that drew more than 450 students to a program titled "Solo Cup Culture: Minimizing the Risks of an Alcohol-Soaked Campus Climate." The speaker focused on each person's responsibility to both look out for the welfare of their friends, and to say something to friends when they see behavior that they don't agree with or that could harm someone.
The message of looking out for friends and helping control friends' behavior is also the foundation of campus messaging efforts involving sexual abuse, bias speech and other important issues. Students will produce a video message about this that will be shared through social media.
---