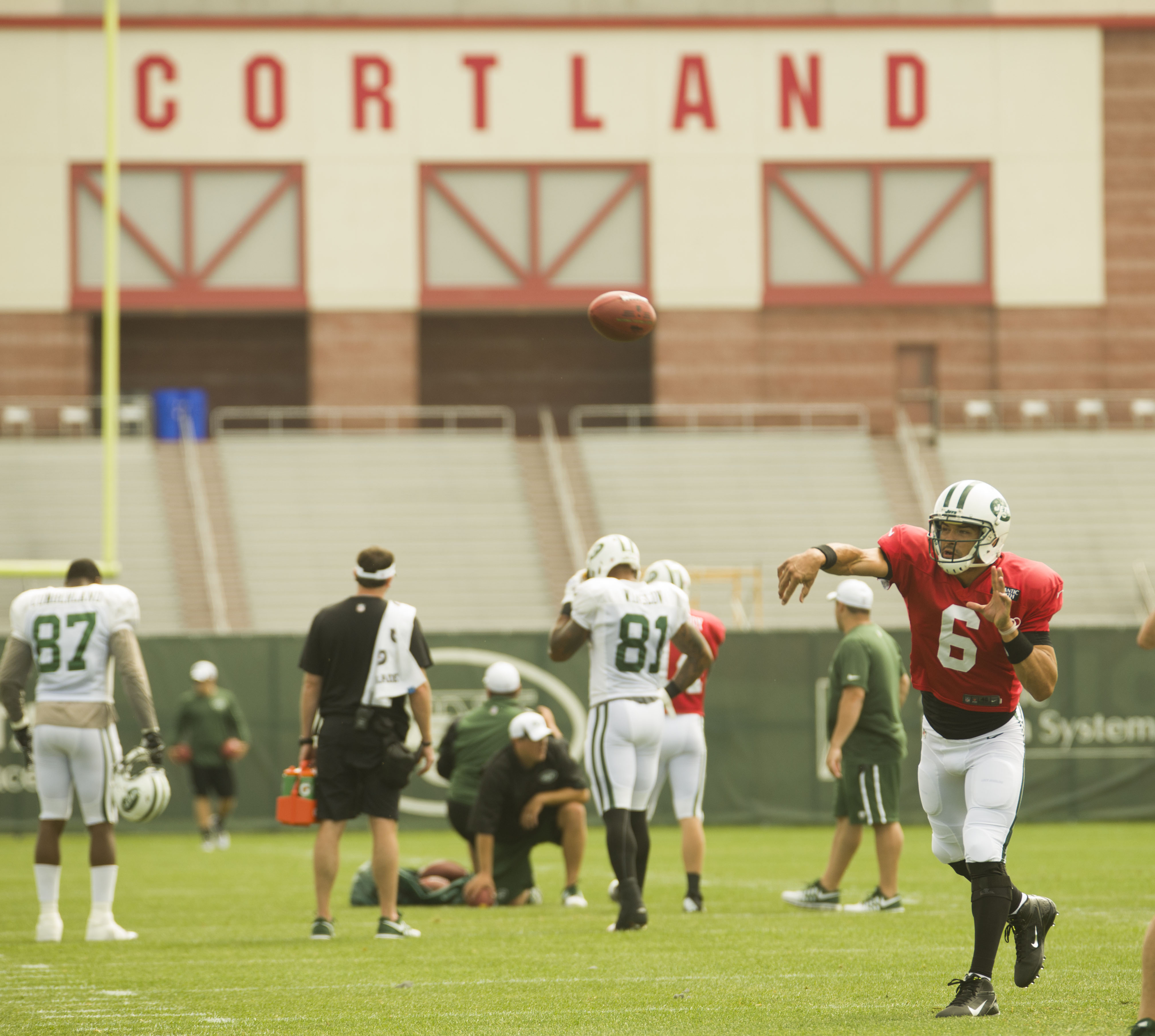 04/23/2014

The New York Jets will return to SUNY Cortland for training camp this year, under a renewal of the team's partnership agreement with the College that was announced today.
The team will report to campus in July for its fifth year in Cortland under head coach Rex Ryan and its second under General Manager John Idzik.
"The school and the community have joined together to continually provide a terrific backdrop for our team to come together at a critical stage of our season," Idzik said Wednesday. "I am pleased that we are returning to Cortland for training camp again this summer."
"I love the fact that we are going back to Cortland," Ryan said. "Everyone knows how I feel about going away. I think it is a big part of building our team camaraderie. The community, the school and the people of Cortland have been outstanding and we are all excited to be going back this summer."
SUNY Cortland's partnership with the Jets has provided year-round opportunities for the College's students and alumni. The 2014 camp will again attract thousands of visitors to Cortland this summer, giving local businesses a boost and raising the profile of the College and the region in a positive way.
"We are pleased and excited to welcome the New York Jets to the SUNY Cortland campus once again," College President Erik Bitterbaum said. " As it has in the past, this summer's training camp will bring millions of tourist dollars into the Cortland economy, showcase the college's professional-caliber facilities on an international stage and provide SUNY Cortland students with the educational experience of a lifetime."
In 2013, 21,000 visitors from 34 states and five countries spent more than $1.6 million locally, creating an economic impact of nearly $3.7 million, according to a study by SUNY Cortland faculty members. Together, the four New York Jets training camps hosted at SUNY Cortland since 2009 have generated $19.24 million in economic impact for Cortland County.
Every training camp, more than 50 SUNY Cortland students across a range of majors work in internships for the Jets. Many economics and business economics majors, meanwhile, receive field experience researching and quantifying the Jets' economic impact on the region.
Definite dates for training camp have not yet been determined. They will be announced as soon as they are available and posted on the SUNY Cortland website.
---