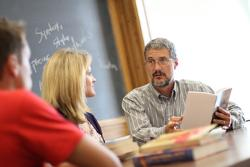 02/20/2017

SUNY Cortland will host the fourth-annual Writing Matters Conference, an event designed for teachers at all levels and of all subject areas, to engage students in "The Work of Writing," on Saturday, March 11.
Practicing Central New York teachers will lead most of the sessions during the all-day event, sharing their classroom-tested approaches for incorporating writing into the curriculum.
Stephen J. Parks, Associate Professor of Writing and Rhetoric at Syracuse University, will present the keynote talk entitled "What I Learned by Working with Teachers: Collaboration, Partnership, and the Power of Writing."
Parks has authored and edited numerous books on writing. He is the founder and executive director of New City Community Press, which pledges to "provide opportunities for local communities to represent themselves by telling their stories in their own words."
Sessions will explore many topics, including the use of new genres for classroom writing, creating school-wide writing communities, using digital media for writing, and exploring the writing process. To register for the conference, or submit a proposal for leading a session, visit WritingMattersConference.com. The deadline for session proposals is Feb. 25.
David Franke, a SUNY Cortland professor of English and the director of the Seven Valleys Writing Project, expects this year's conference to foster discussions about how to make writing work for teachers and students in Central New York.
"For veteran teachers and even those still working on degrees, the Writing Matters conference provides exposure to teacher-tested approaches to writing," Franke said. "The principles and methods from Writing Matters workshops can be imported into any subject area and level of class, K-12. This is particularly useful to teachers across the curriculum who want students to write more, but are looking for new ways to motivate them and assess their writing. The conference also encourages teachers to write and share the results of their writing."
Workshop sessions run from 8:30 a.m. to 3 p.m. in Corey Union on March 11. Breakfast is served from 7:45 to 8:15 a.m. and lunch is provided. Certificates will be available and teachers will earn seven hours of professional development credit. The $50 conference fee is waived for presenters. Visit writingmattersconference.com, TSTBOCES.org or email Seven Valleys for more information.
---