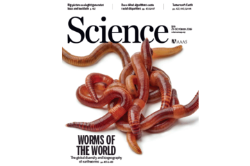 11/05/2019

Science's recent cover story, "Worms of the World," was not for the squeamish.
Yet the topic is of great importance to those studying soil organisms and terrestrial ecosystems.
Andrea Dávalos, assistant professor in the Biological Sciences Department, was a co-author on one of the issue's papers, "Global distribution of earthworm diversity." The paper compiled samples from scientists across the globe to build a dataset from 6928 sites in 57 countries in order to help predict patterns in earthworm diversity, abundance and biomass.
Dávalos is currently studying jumping worms, an invasive species of earthworm originally from Asia, that have been spotted in the Central New York area.
In other news:
---