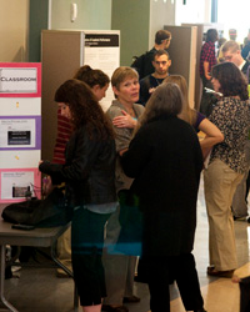 04/02/2013

Students typically travel to Great Britain in the summer for iconic sights such as Windsor Castle, the Tower of London or Stonehenge.
For three weeks last July, SUNY Cortland seniors Alexander Meyers and Heather Clancy had a different agenda. They crossed the Atlantic Ocean to use the high-performance liquid chromatography device at Exeter University.
The results of their investigation into how plants produce Vitamin C will be presented on campus during the Friday, April 19, event called "Transformations: A Student Research and Creativity Conference."
"Transformations" will take place that day from 12:30 p.m. to 6:30 p.m., in Sperry Center, while scheduled classes continue.
The event focuses on student research, defined as an original investigation or creative activity through the primary efforts of a student or group of students. The students' work should show problem-solving skills and demonstrate new conceptual outcomes.
It will be the first "Transformations" lecture for Clancy and Meyers and their inaugural scientific speech before the general public, they said.
Heather Clancy and Alexander Meyers test
samples of the Arabidopsis thaliana they
studied last summer. The pair will present
their findings at this year's
"Transformations" conference.
"It's exciting to be able to finally present all that we've worked on," Clancy said. "If you can have an involvement in research, I think that you should certainly do it. And the 'Transformations' presentation is an opportunity to not only present your own scholarship but to see other people's and to get ideas about the kind of studies you might be interested in getting involved in."
Both Clancy and Meyers received research funding through SUNY Cortland Undergraduate Summer Research Fellowships.
"One of the requirements is that you present at 'Transformations,' although if it wasn't, I probably still would have," Meyers said. "It is an opportunity to present what I've been working on for the past year."
The SUNY Cortland summer fellowships — given to 12 students in various disciplines — paid Meyers and Clancy an hourly stipend for their lab work.
The competitive Undergraduate Research Fellowships are funded through the Provost's Office from indirect cost returns obtained on faculty and staff grants received by the College and managed by the chair of the Undergraduate Research Council, Geology Professor Christopher McRoberts, in consultation with the Research and Sponsored Programs Office. The Cortland College Foundation also is a sponsor. The funding supports eight weeks of full-time faculty mentored research.
The British leg of their academic journey was subsidized by a grant from the National Science Foundation.
Presenting original research at "Transformations" often caps the undergraduate career of students who have consistently sought to explore their collegiate learning opportunities to the fullest.
"As a senior science major, the faculty try to prepare you for these situations," Meyers said. "Because, as you go on to graduate school, the faculty will expect you to present to your peers and other people. So I'm not too nervous about it."
Bruce Mattingly, dean of arts and sciences and conference committee chair, complimented the faculty in all disciplines who stand behind the work of their students who engage in investigations.
"We are encouraged and invigorated by the increasing level of student research that we are seeing at SUNY Cortland, and understand that it is only possible through the ongoing efforts of faculty who provide leadership and mentoring to our students," he said.
Clancy and Meyers are studying how the synthesis of vitamin C is regulated in Arabidopsis thaliana, a non-descript, common plant in the cabbage family that has a really fast lifecycle. Since last summer, and before that for Clancy, they have patiently tended the plants that are the focus of their research.
"It's like the lab rat of plants," she said. "It's quick-growing and inexpensive to keep. It follows a really ideal general structure for green plants."
If Meyers had to explain their study to his grandmother — which he has done — he would say:
"We look at the way plants make vitamin C and how they regulate the pathway in which they make vitamin C," he said. "If you start with one compound, that compound will interact with an enzyme to make a second compound which will interact with another enzyme to make a third. We look at these long, enzymatic pathways that are regulated at specific points in synthesis. The plant is basically turning one thing into anther thing."
As in humans, vitamin C serves as an anti-oxidant, neutralizing the harmful effects of the sunlight where plants also get their energy, according to Meyers.
The work of Meyers and Clancy hopefully will contribute to pure science more than any readily available human or plant application, according to Clancy.
"It just furthers our knowledge in general," she said.
Associate Professor of Biological Sciences
Patricia Conklin and senior Alexander
Meyers interact in a Bowers Hall laboratory.
Conklin's study led them to England just before the Summer Olympics for the sake of working with her collaborator at the university, Professor Nicholas Smirnoff, and with investigative equipment that is only available such a large research institution. The university's high performance liquid chromatography device measured the difference between two important sugars involved in the plant's life cycle.
"A lot of the time the research and the lab technology is behind closed doors," Clancy noted. "Other people might not care about what you're working on. At 'Transformations,' you're given an opportunity to present your scholarship in kind of a social way that might strike some sparks. It's nice to think we might be actually doing something, the research we're doing matters and other people do care about it."
The audience reaction at "Transformations" may clue Meyers and Clancy to where future study might take them.
"It's always been my experience that once you figure something out in one experiment, there are 100 more questions," Clancy said. "So, the research is never done.
"A huge part of doing research is presenting it. If you cannot present your findings, they are taken a lot less seriously. If you can't get your meaning out, then nobody knows about it and what you find out is pointless. You have to know how to write a scientific paper and to present your research in order for you to continue to grow in that field."
She hopes to pursue graduate studies in the nursing field, perhaps at the doctorate level.
"The research gives you that opportunity to find out if you want to go on in the field," Clancy said. "Because it's important to know if that's what you want to do before going on to the graduate level."
Meyers has his eye on earning a doctorate from a university that has a biochemistry specialty.
In 1997, SUNY Cortland established Scholars' Day, a daylong conference devoted to showcasing the wide array of scholarship, research and creative activities occurring on campus. Over the years, Scholars' Day became a highlight of the academic year, continuing in 2012 with a new emphasis on student research and the new name Transformations: A Student Research and Creativity Conference.
Support for Transformations has been provided by the President's Office, the Provost's Office and Vice President for Academic Affairs Office, The Cortland College Foundation and Auxiliary Services Corporation. Organizers are grateful to the Student Alumni Association for providing volunteers for "Transformations."
For more information, contact the Arts and Sciences Dean's office by phone at 607-753-4312 or by email. Visit the "Transformations" website.
---