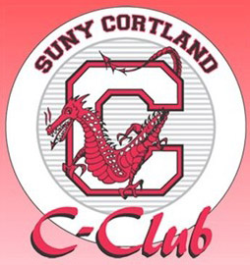 05/21/2013

Six new members will be inducted into the SUNY Cortland C-Club Hall of Fame during its 45th annual banquet and ceremonies on Saturday, Sept. 21, in the College's Corey Union.
The 2013 honorees are:
• Warren Kilmer '56, a baseball standout at Cortland under coach Carl "Chugger" Davis and a long-time associate in the New York State Education Department's Bureau of Health and Drug Education;
• Tim Sullivan '65, a long-time professor, coach and the chair of the Health, Physical Education and Leisure Studies Department at Montclair State University. He is a former Cortland football player, wrestler and lacrosse player;
• Sue Zawacki '74, a member of Cortland's field hockey, basketball, softball and golf teams during the early years of those programs' intercollegiate status and a long-time collegiate athletic administrator and women's basketball coach;
• Heather Brendel Evans '81, an All-American on Cortland's 1980 national championship women's soccer team and the co-coordinator of the Rogers School Outdoor Education program in West Irondequoit, N.Y., since 1993;
• Julie Gentner Murphy '03, a three-time All-American in both field hockey and softball and the 2001 Div. III National Field Hockey Player of the Year who helped Cortland win a national title;
• and honorary inductee Mike Partigianoni, Cortland's athletics equipment room supervisor since 1987 and an employee at the College since 1980.
In addition to the evening official ceremony, the inductees will be introduced at halftime of the Cortland-William Paterson football game earlier that afternoon.
Established in 1969, the C-Club Hall of Fame recognizes Cortland alumni who competed as athletes at the College and who since have distinguished themselves in their professions and within their communities. Honorary members are recognized for their long and significant contributions to SUNY Cortland athletics. New C-Club members have been added annually and this year's ceremony will bring the Hall of Fame roster to 230 alumni and 27 honorary members.
More details about the inductees will be released this summer.
---