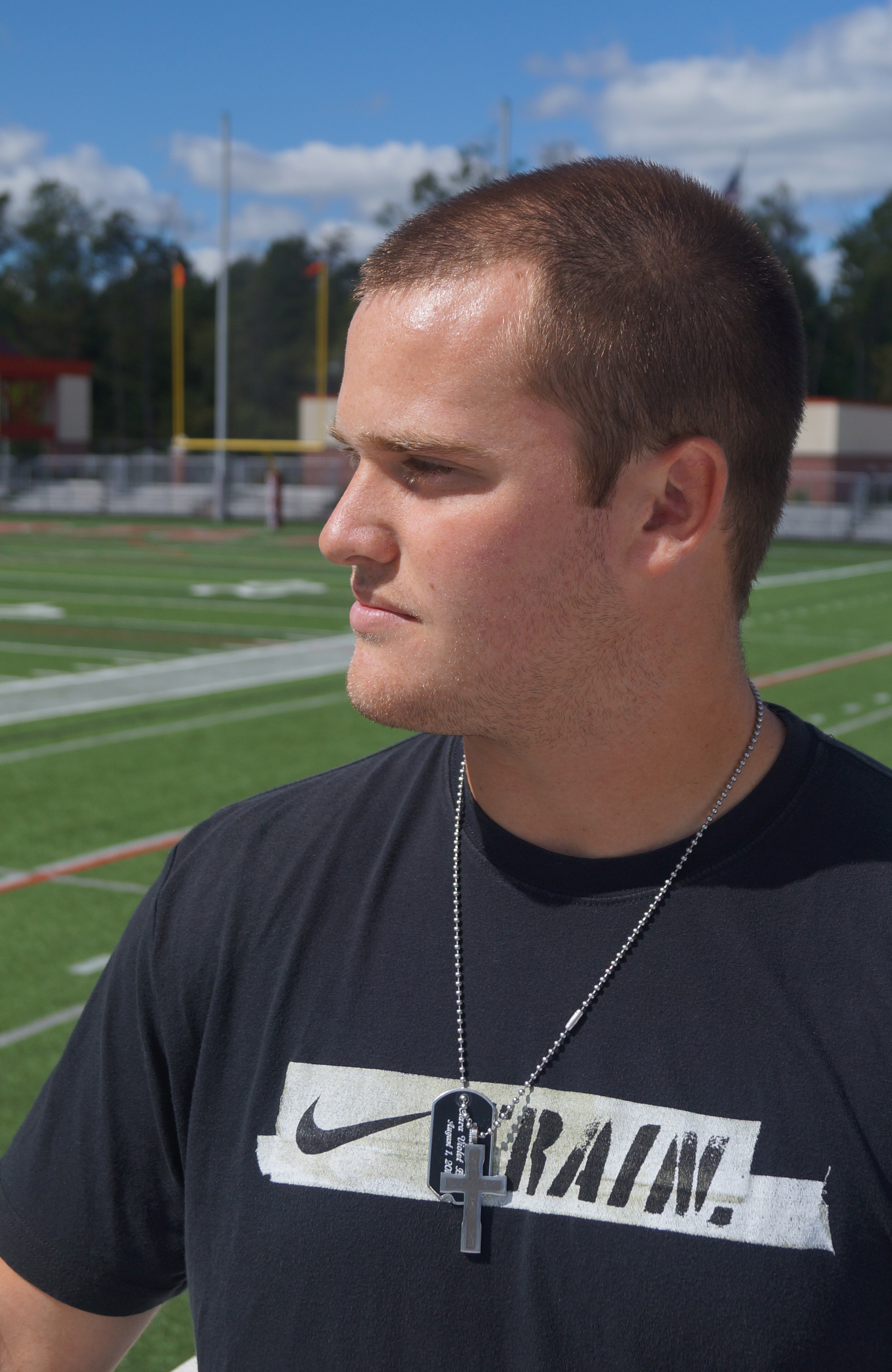 09/25/2012

John Stephens, all six feet and 230 pounds of him, held his emotions in check as he stared at the computer screen, wrapping his head around an email that answered a question that had lingered for the past two years.
The message's title said it all.
"You saved her life," it read.
The August email was written by Brooke Boyle, of Menlo Park, Calif., on behalf of her 2-year-old daughter Clara. The toddler survived leukemia because of Stephens' bone marrow donation. Rules forbidding contact between donor and recipient had prevented any earlier communication between Stephens, a junior physical education major from Goshen, N.Y., and the Boyles.
"Her name is Clara Violet Boyle," the email message began. "She is very much alive. … I imagine that's the answer to your biggest question. And I have no idea how to thank you or how to really begin the conversation with you."
Stephens, a hulking linebacker for Cortland's football team, said his eyes welled.
"I was teary-eyed, but they were tears of joy," he said. "To finally know a name, where they're from, what they went through. It was overwhelming."
What started with a swab of Stephens' mouth to obtain cheek cells will soon turn into something much bigger, when the Boyle family is expected to travel nearly 3,000 miles to attend Cortland's Oct. 13 home football game against Brockport. The Division III contest will be a Super Bowl of sorts for both Stephens and the Boyles; the perfect reward for coming out on top in Clara's back-and-forth battle with leukemia.
"It can't come soon enough," Stephens said. "I wish it was tomorrow."
The spring of 2010 seems like lifetimes ago, he said. That's when Stephens and his parents participated in the football team's effort for the "Get in the Game, Save a Life" National Marrow Donor Program (NMDP) Drive during a recruiting visit to the College. They recognized it was for a good cause. But they also realized the remote likelihood of being chosen as a match.
On average, only one in every 540 members of the NMDP registry will go on to donate bone marrow or blood stem cells to a patient. Including Stephens, SUNY Cortland has contributed four potential matches in the four years it has organized a bone marrow drive.
"No question, we just did it," Stephens said.
Less than two months into his Cortland experience, in October 2010, he received the first phone call from an NMDP advisor. She informed him he was a potential match for a newborn girl and asked if he wanted to move forward with the process. Stephens discussed it with his parents, who encouraged him, and soon after he reported to Cortland Regional Medical Center for blood work.
Around the same time, at Lucile Packard Children's Hospital at Stanford, Clara Boyle was enduring three months of chemotherapy blasts. A tube stayed taped to her face to provide food and oral medication. Needles regularly pricked her skin. And doctors soon delivered frightening news: Clara was suffering from aspergillus, a fungal infection potent enough to kill cancer patients.
Stephens' November appointment to extract the bone marrow was postponed while Clara's infection was treated. Like every bone marrow donor and patient, the two sides were strangers to each other. They only knew the other's age and gender.
"During this whole process, you're just so grateful for this boy," Brooke Boyle said. "It blew me away that this kid was in no way a kid. I was so thankful he was willing to do what he was willing to do for a complete stranger."
Stephens eventually donated his bone marrow on Jan. 11, 2011, at Strong Memorial Hospital in Rochester, N.Y., during the typical hour-long extraction process that requires anesthesia. Doctors took twice the amount required and sent it to the West Coast, where Clara received the transplant the very next day.
"She's a newborn girl and I'm a 230-pound linebacker," Stephens joked. "So even though they took more than they needed, the pain I felt wasn't too severe."
The toughest part for him was the waiting game that ensued.
Clara's health improved dramatically — so quickly that doctors waited to tell the Boyles due to a fear of dashing their hopes. She went home roughly a month later in early February and slowly acclimated to life as an infant. Stephens received word in the spring of 2011 that his recipient's condition had improved. But that's the only news he heard for more than a year due to the contact restrictions.
"I always wanted to know who it was," said Stephens, noting that he checked in with his advisor at the NMDP monthly. "My family knew from past stories it could take up to a couple years and that we needed (the recipient's) consent."
Finally, on Aug. 3, he opened the email from Brooke. She sent it two days earlier — the same day she received his contact information and a day before Clara was given a clean bill of health.
"I've been waiting a long time to be allowed to contact you," her email continued. "But I also haven't known what I wanted to say to you or what you'd want to know or say to us. It's kind of impossible to truly express our gratitude, and I also do not know what you have thought about how this moment would go."
The rest of Boyle's note detailed Clara's battle with leukemia and praised Stephens for his choice to donate.
"You made a choice that many people don't make," it read. "And your choice and your self-sacrifice and your prayers saved our daughter's life."
One line in particular struck Stephens.
"Your blood is clearly running through my daughter's veins," Brooke wrote. "She LOVES football."
Without even speaking to each other, both Stephens and the Boyles shared the same dream: get Clara to a Cortland football game so she could see "her football player," as she refers to Stephens, in action.
A second-string linebacker, he captained the College's junior varsity squad last season. During the upcoming Brockport game, Clara will sport a custom-made Cortland jersey with Stephens' name and No. 34 on it.
"I'm not going to the NFL or anything but it's awesome she'll be able to do that," he said.
Family members and friends from both sides stepped up to make sure the Boyle family's first big vacation would happen by raising funds to cover the trip's expenses.

So far, $3,880 of the $4,000 goal has been contributed. Gifts are still being accepted.
Brooke Boyle has not worked since Clara became sick. Her husband, Alan, is pursuing a post-doctoral fellowship at Stanford. And the couple welcomed its second child, Rosalyn, in the winter.
Add in Clara's medical costs and the living expenses of one of the country's priciest areas; the trip seems far from a given.
But just as Clara found a way to beat slim survival odds and Stephens managed to accommodate a complete stranger's needs, the Boyle family looks to have found a way to Cortland.
To say both sides are eager to meet would be an understatement. They've communicated on Skype several times and they text message each other regularly. Each night, Clara prays for her football player. He, in turn, has her picture set as his computer desktop wallpaper and now wears a dog tag with her name on it.
And when he needs a pick-me-up after a particularly grueling practice, he thinks back to their first phone conversation.
"Clara said: 'Thank you for my bone marrow,'" he remembered. "It was incredible to hear that from a 2-year-old, not even close to anything sports- or football-related.
"It's something a lot higher than sports," he said. "It's life."
---