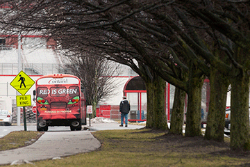 03/10/2020

Like many other college campuses, SUNY Cortland has struggled to help students overcome the difficult obstacles of finding parking and transportation.
This semester, the administration is both adding a new parking lot and partnering with a bus company to provide more options for traveling between campus and the community.
"We're trying to find solutions for off-campus students," explained Zachariah Newswanger, associate vice president for facilities management.
Now that the snow has melted, the facilities planning, design, and construction office eagerly awaits a project to pave a new parking lot in a field between the SUNY Cortland Stadium Complex and the existing Route 281 lot. This will add 140 new spaces.
Meanwhile, thanks to a recent collaboration between the university and College Suites apartments, students will have between 45 to 50 new parking spots in Spring 2020. College Suites is located near the intersection of Routes 13 and 281. If popular, the expanded parking will remain available beyond spring semester.
Additionally, the West Campus bus began serving College Suites, making a stop at the East Building to pick up students before continuing to Park Center.
Those interested in parking permits for College Suites are encouraged to contact Parking Operations at 607-753-4123.
The university's Facilities Management Office conducted a campus-wide survey last semester, to which approximately 400 individuals responded.
Among the numerous steps SUNY Cortland has made in response to the survey is a partnership between facilities management and First Transit, Cortland County's public bus service, to make stops on campus.
The Route 2 bus will pick up students at the Route 281 lot before continuing to Tops.
The Route 4 bus stops at Park Center and then continues on to Walmart, Price Chopper, and ALDI grocery stores.
Bus Routes 6 and 7, which head to Tompkins Cortland Community College and Cornell, will stop in front of Corey Union. Six and seven are combined in the morning.
When riding, exact fare is required. Fares include:
$1.50 (Routes 1-4)
$2.00 (Route 6)
$5.00 (Route 7)
Monthly passes are available for purchase. Students with a monthly pass can ride as many times as they wish in the month. The cost is $45. The passes can be purchased at:
Cortland Transit, 21 Squires Street
Daily Grind, 24 Main Street
Daily Grind South, 180 Main Street
First Transit would plan to use the bus-tracking telephone app the campus already uses, DoubleMap, in the future to track its buses. For now, bus schedules can be found on the First Transit website.
Meanwhile Zipcar, located in the parking lot next to Corey Union, continues to be available for rental and is underused, Newswanger noted. It could help eliminate the need for students to have cars on campus.
While a person usually needs to be 25 in order to rent a car, Zipcar allows anyone 18 and over with a driver's license to rent. Memberships with Zipcar cost $15, a fee that also goes towards a member's first drive. Cortland students receive a discount for their rides, which amount to approximately $7.50 an hour and about $69 a day. The cost includes gas and insurance.
In terms of additional parking, the potential for other new parking lots is slim.
"It isn't realistic. We don't want the campus covered in asphalt," Newswanger said. "There's just not a lot of real estate for new lots."
Prepared by Communications Office writing intern Victoria VanEvery
---