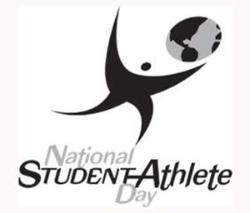 03/29/2013

SUNY Cortland will celebrate its more than 600 student-athletes when the College takes part in National Student-Athlete Day on Saturday, April 6.
An outdoor barbecue, weather permitting, and a special recognition ceremony during halftime of the 1 p.m. women's lacrosse game are planned. Prize raffles and other activities will take place during the day's home contests, which include:
· a men's and women's outdoor track and field meet at 8 a.m.
· a baseball doubleheader against Brockport at noon
· a softball doubleheader against Buffalo State at noon
· a women's lacrosse game against Oswego at 1 p.m.
The nationwide event, which first gained support from the NCAA in 1994, recognizes efforts that take place in the classroom, in competition and the community.
SUNY Cortland has won five State University of New York Athletic Conference (SUNYAC) team titles so far in 2012-13 and has captured the SUNYAC Commissioner's Cup for overall sports excellence in 15 of the 16 years that it has been awarded.
The College's wrestling team this week was honored with a spot on the 2012-13 National Wrestling Coaches Association All-Academic Team list, ranking 15th nationally in grade point average. The SUNY Cortland field hockey squad also was recently named a 2012 Gladiator by SGI/National Field Hockey Coaches Association Collegiate National Academic Team Award recipient for earning a grade point average higher than 3.0.
During the fall sports season, the SUNYAC recognized 92 student-athletes on its All-Academic and Commissioner's List teams. Student-athletes earn a spot on the All-Academic List by recording at least a 3.3 grade point average during the most recent semester and are named to the Commissioner's List if they have at least a cumulative 3.3 grade point average over the past three semesters combined.
National Student-Athlete Day was created by the National Consortium for Academics and Sports (NCAS) and the Northeastern University Center for the Study of Sport in Society, in partnership with the National Federation of State High School Associations and the NCAA.
---