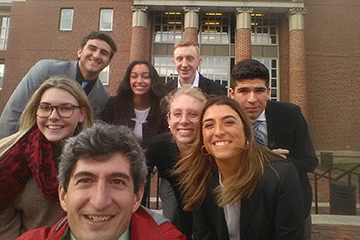 11/05/2019

Seven international studies majors from SUNY Cortland gathered recently on the campus of Syracuse University to help solve an international crisis.
The crisis — an important conflict which could escalate into a full-blown war between two nuclear powers, India and Pakistan — is real.
The solutions — offered by the Cortland contingent from Oct. 25 to 26 during the "Jammu and Kashmir" Exercise in S.U.'s Maxwell School of Citizenship and Public Affairs — were hypothetical.
However, although the Cortland student's adversaries were not actual delegations from Russia, India, China or Great Britain, they were something nearly as intimidating: graduate students enrolled in one of the top schools for professional public policy degrees in the United States.
"I was impressed with their performance as they were the only undergraduates participating in an event where all other students were graduate students," said Alexandru Balas, SUNY Cortland associate professor of international studies and coordinator of the university's International Studies Program.
"At times I felt that I am in the presence of future diplomats who knew how to run meetings under stressful conditions, when information was moving fast and coming from multiple ways," Balas said of the Cortland team, which featured two first-year students, two sophomores, one junior and two seniors.
The U.S. Army War College offers these International Strategic Crisis Negotiation exercises to engage college students in the real-world dilemmas faced by today's politicians and begin working on the solutions before perhaps embarking on lives of public service.
"I had to learn to make fast decisions that could determine the peace of the Jammu-Kashmir state," said SUNY Cortland sophomore Jennifer Toribio of Freeport, N.Y. "Overall, this exercise showed me the skills needed to be the diplomat that I strive to become in the future."
SUNY Cortland sophomore Melissa Alvisi described a similar learning experience.
"I learned how when you negotiate you do not uncover your cards from the beginning, but how negotiation is an art based on 'what to say and when to say it,'" said Alvisi, a dual U.S. and Italian citizen. "You do not want other countries to know what you want from the first meeting. It is a long and thoughtful process made out of small steps."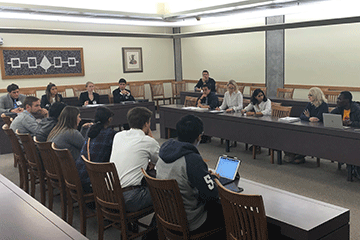 This year's challenge involved the work of the United Nations Military Observer Group in India and Pakistan (UNMOGIP), which was deployed since 1949 in the Kashmir conflict and is the second oldest U.N. peacekeeping operation in the world.
The region of Kashmir lies in the midst of the Himalayan Mountains, in the northwest corner of the Indian subcontinent. During colonial rule the region was a single princely state, called Jammu and Kashmir. Following Pakistani and Indian independence from the British Empire in 1947, the once united region became a disputed territory, with both countries laying claim to the entirety. Today, as a result of several Indian-Pakistani wars, the original area is split and administered separately by India and Pakistan.
Playing the role of U.S. negotiators, the SUNY Cortland team — whose members aspire to careers in diplomacy, humanitarian aid and U.S. security — engaged in the high-profile two-day exercise to test their international studies and negotiation skills in mediating with counterparts representing other nations.
"I was excited to participate at this conference, because I am preparing to go to Brussels, Belgium in January for the Model European Union Summit with a few fellow teammates," observed Naomi Higgins, a junior from Yonkers, N.Y. "So it felt like great practice for that."
"Playing the United States was a great role for this simulation, because we had a lot of negotiation power, which allowed us dominance in the conference," said Higgins, who focused on the Indian delegation.
Other team members, in the manner of the U.S. State Department, took the lead with other actors involved: Pakistan, Russia, China, United Kingdom and the Kashmir delegation.
"My favorite part was strategizing with my team during our team meetings," Higgins said.
"Going into the first session of meetings I was shocked and scared, but mostly intimidated knowing I was facing negotiations with people much older than me," Toribio said.
"However our team mentor, Alexandru Balas, helped encourage us to believe in ourselves because he knew what we were capable of," said Toribio, who represented the diplomat in charge of the relations with the Jammu and Kashmir People's Democratic Party. "After the first meetings, I felt confident and prepared and the fact that everyone else was a graduate student didn't even cross my mind anymore."
"They were well prepared and professional when negotiating with graduate students sometimes 10 years their seniors," from the Maxwell School, said Balas, who also directs Cortland's Clark Center for Global Engagement. "Their ability to 'read' through purposes of meetings and what other delegations wanted from them was impressive."
"Being very careful and specific with your words is a key tool I learned because one little mistake could be used against you in the long run and can tremendously hurt you and your team," observed Marco Musso, a first-year student from Massapequa, N.Y. "At the end of the day I got a real feel for how this is dealt in real life and the skills I added to my toolbox are something I can carry with me for my future."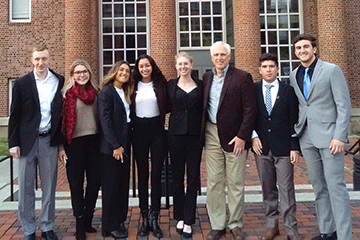 Alvisi said she had taken a negotiation class with Balas this past summer, which helped hone her negotiation skills, strategies and tactics. To help prepare for their part in the U.S. delegation, all team members first digested a 72-page briefing document.
"I was asked to be the team communicator for the U.S., which is a new position that mainly put me in contact with the other countries' communicators," said Alvisi, who is fluent in both Italian and English and has partially mastered French and Latin. She was in the midst of applying to study abroad in Spain next spring when this extracurricular opportunity came up.
"This conference confirmed the reason why I am here at SUNY Cortland," said Alvisi, who originally decided to study at SUNY Cortland because her mother, Alba Panzanella '87, was a graduate. "In a school like Cortland you feel involved in events on and off campus as well."
"Of course classes are important," said Jack Gibson, a senior from Wayland, N.Y., who interacted with the Russian delegates during the exercise. "However, everyone goes to class and this sets you aside from the rest of the students. I think participating in simulations is extremely important in becoming engaged and learning."
Attending the simulation was retired diplomat James Bruno, who congratulated the Cortland participants on how well they negotiated in the exercise and told them they have bright futures ahead of them.
In the above left image the delegation includes, front row from the left, Naomi Higgins, Alexandru Balas, Kelsilyn Norman and Melissa Alvisi; and back row, Marco Musso, Jennifer Toribio, Jack Gibson and Adrian Rivera.
---