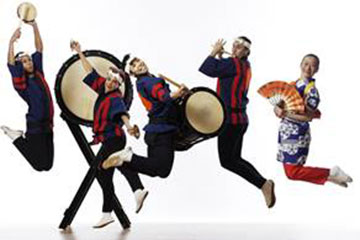 09/12/2017

Their Japanese-inspired music is featured in the Nintendo Wii games Red Steel and Red Steel 2. The Taikoza and East Winds Ensemble will perform at SUNY Cortland on Wednesday, Sept. 27.
The ensemble will offer their signature thunderous rhythms of ancestral Japanese Taiko drums and the magical sounds of bamboo flutes starting at 7 p.m. in the Corey Union Function Room.
Presented by the College's Campus Artist and Lecture Series (CALS), admission to the concert is free for all students and pre-kindergarten age children. General admission is $10 with a senior citizen discount price of $8. Tickets may be obtained through the Campus Activities and Corey Union Office, Corey Union Room 406, or at the door one hour prior to the performance. For more information, call 607-753-5574.
Featuring performances on a six-foot-long ancestral Taiko drum, the program artfully blends its bold and vibrant sound with colorful dances and soulful melodies played on bamboo flutes. The purpose of the group is to present concerts of traditional and modern music performed on Japanese traditional instruments, the shakuhachi, taiko, shinobue, noh flute, shamisen, piano and the koto. Traditional costumes and dynamic motion are geared to entertain audiences of all ages.
| | |
| --- | --- |
| | |
| | The Taikoza and East Winds Ensemble will offer their signature thunderous rhythms of ancestral Japanese Taiko drums. |
The members of the group are Masayo Ishigure, Yuki Yasuda, Charles Tang and Marco Lienhard. Performances have taken the group to Japan, Mexico, Europe and around the U.S. The members have performed in some of the world's most renowned venues, such as Carnegie Hall, Lincoln Center, Boston Symphony Hall, Suntory Hall in Tokyo and Osaka Festival Hall.
The ensemble recently toured Brazil for the Japan Foundation.
Founded in 1995 by Lienhard, a native of Switzerland who was a professional taiko player in Japan, this professional Japanese traditional music and dance group has dazzled audiences worldwide with its electrifying performances.
"Taikoza has created an original and high-energy sound that transcends national boundaries," noted a reviewer from Arts for Learning, an organization that promotes the arts for best practices in education.
The event is supported by the Auxiliary Services Corporation and the Cortland College Foundation. For more information about Taikoza, visit the band's website. For information about this or other CALS events, visit the CALS website.
---