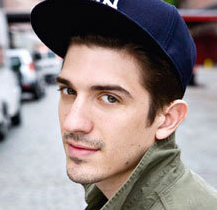 02/04/2014

He is not a "snake milker," a "super car test driver" or an "airplane re-possessor," but comedian Andrew Schulz will visit SUNY Cortland Sunday, Feb. 9, to share the funny perspective that has him hosting an upcoming new MTV show about "dream jobs."
Schulz will share his straightforward and street-smart humor at 7 p.m. in the Corey Union Function Room.
Presented by the College's Student Activities Board (SAB), the event is free and open to the public.
Schulz, best known for his roles on MTV's "Guy Code," "Girl Code," "Guy Court" and MTV's most recent project, "The Hook-Up," has established himself as a well-proclaimed stand-up comic.
"My stand-up shows consist of talking to women about what it is like to be a man or what it is like to be the guy in a relationship," said Schulz. "I am in a relationship so I focus my jokes around gender dynamics."
MTV's fifth installment for Schulz will be a show titled, "Jobs That Don't Suck," which is expected to premiere this upcoming April. Acting as the antithesis of Mike Rowe's series "Dirty Jobs," "Jobs That Don't Suck" focuses on people who have landed their dream jobs, such as the "professional pick up artist."
Schulz will accompany people on their dream jobs and will show audiences that anyone can do what they do.
"If you love to do it, then it is an awesome job," Schulz said.
With more than 67,000 Twitter followers, Schulz has been named "one of the top five up-and-coming artists on Twitter," according to his website, and has taken the social media world by storm. Despite his busy schedule, it is not difficult for fans to keep up with his every move.
To find out more about Andrew Schulz, visit his official website at www.theandrewschulz.com.
---