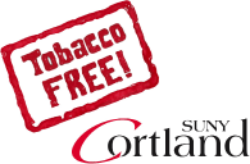 03/22/2016

There's nothing violent about SUNY Cortland's upcoming "Kick Butts" Day. Instead, the intention is to continue the College's notable tobacco-free efforts by cleaning up cigarette litter on campus and in the nearby community.
Students, faculty and staff members are invited to volunteer from noon to 2 p.m. on Tuesday, March 29. They're encouraged to sign up for the clean-up by sending an email to Lauren Herman, the College's health educator, and then report to the lobby in the Student Life Center any time during the two-hour window.
Campus employees can be granted up to one and a half hours of release time with supervisory approval.
In 2011, the College became just the second SUNY institution to announce its intention to go completely tobacco-free — a feat it accomplished in 2013. Since that time, SUNY has adopted a system-wide tobacco-free policy, which took effect in 2014.
A 2014 survey conducted by the College reported that 65 percent of 369 respondents observed a decrease in tobacco use on campus, while 68 percent noted an observable decrease in tobacco litter. Most recently, SUNY Cortland was recognized in the fall on the Tobacco-Free U: 2015 New York State Dean's List as one of only 13 higher education institutions to receive an A-plus rating from the American Cancer Society.
Those grades, which scored 201 colleges and universities across the state, were awarded based on surveys reporting how effectively tobacco- or smoke-free policies held up at different institutions. The highest scoring schools demonstrated a commitment to compliance beyond simply instituting policies on paper, according to the report.
SUNY Cortland continues to offer support and quitting mechanisms for campus community members who wish to kick their smoking or tobacco use habits.
The upcoming clean-up is sponsored by SUNY Cortland's Tobacco Advisory Committee and Tobacco-Free Cortland. It is considered part of the College's yearlong Green Days celebration. Green Days is a calendar of events related to sustainability that reaches its peak of activity every April. Visit cortland.edu/greendays for more information.
---